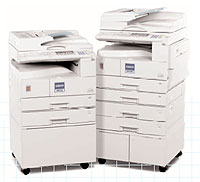 The Complete Network Solution For The Small Workgroup
Your small workgroup will benefit from the increased productivity and functionality that comes from a high-quality digital imaging system. Offering 600 dpi-resolution output at 15 pages per minute (18 pages per minute for the 2518/2518d), the connectivity of a networked printer and high-speed communication thanks to the ultra-fast 33.6 Kbps fax modem, these systems are industry competitors.
Competitive cost-per-page rates and multiple digital advantages such as electronic sorting provide your workgroup with clear advantages. But even for such a cost efficient digital imaging system, it is surprisingly robust. Optional paper drawers expand the 2515's maximum paper capacity to 1,350 sheets (1,600 sheets for the 2518/2518d) while output offers a wide range of paper sizes, from envelope to 11" x 17". Other standard features include a 50% to 200% zoom range, Scan Once/Print Many and Combine Originals.
Highlights
15 / 18 pages per minute
6.9 second first copy time
600 dpi resolution
Standard Auto duplexing (1802d)
Four preset reduction and three preset enlargement ratios
50% to 200% zoom range in 1% increments
16 MB printer memory, expandable to 144 MB
3 second transmission speed
1 second scanning speed
Fax module scans pages into memory in 1.2 seconds
Transmits via 33.6 Kbps modem at a fast 3 seconds per page
Options
Printer Interface for 600 dpi laser printing at 15/18 pages per minute
DF72 Auto Document Feeder (30 Sheets)
Consoles
32MB DIMM Copier Memory
PS 460 Paper Bank (500x1)
PS 450 Paper Bank (500x2)
Network Interface Board
32 MB/64 MB, 128 MB DIMM Printer Memory
Platen Cover Type 1018
Handset Type 1018
PostScript Level 2 Emulation
ARDF DF71 Auto Reversing Document Feeder (50 Sheets)