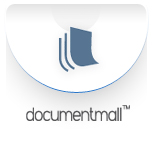 DocumentMall is Savin's document storage and management solution in the "cloud" that gives organizations the ability to store, retrieve, manage and share electronic files and scanned paper documents using the Internet.
Overview
ABOUT DOCUMENTMALL
Secure, online document repository is instantly accessible from any location using a web browser and a computer
Cost-effective, low-risk method of electronic document conversion, storage, and distribution
Watch a demo now - DocumentMall.com
NEW capabilities in version 9.1 make it even easier to import, store and manage documents in DocumentMall, retrieve them when needed; and truly collaborate with others using the Internet.
MAJOR APPLICATIONS
Paper intensive, regulated inductries.
Departmental workgroups.
Document Archiving - store and retrieve scanned paper documents
Document Management - organize documents by type, use indexing and full text search
Document Distribution - simple, secure way to share documents using the Internet
Document Collaboration - work on documents together, mark-up and edit versions
Provides off-site electronic document storage useful for disaster readiness, compliance and archiving
BENEFITS
Eliminate the time and expense to find, copy, package and ship documents overnight
Provide immediate access to accurate and consistent information through a centralized distribution point.
Improve security and regulatory compliance by controlling and tracking access to documents.
Share and comment on files over the Internet - speed up decisions, reduce overnight shipping.
Improve disaster readiness and business continuity through highly secure off-site storage and remote access to business critical information.
USING DOCUMENTMALL
Access documents - by logging into your secure DocumentMall account from a variety of web-enabled devices and applications (pc, smart phones, MFPs)
Documents and files stored on DocumentMall can be accessed by anyone you authorize, including customers, vendors, work-group teams.
Multiple options for uploading documents range from dragging and dropping documents from the desktop to automated solutions supporting volume upload of scanned documents.
Automatic optical character recognition (OCR) enables full text search of information in scanned paper documents.
Multiple search options including full text, file name, and customizable index fields.
Auditing capabilities produce detailed records (audit trail) on each document as well as the entire account.
Email files from DocumentMall to others or send links to download (no attachments)
Formalize the routing of documents for review and approval with DocumentMall Workflow.
IMPLEMENTING THIS SOLUTION
Software as a Service - no hardware to buy or servers to maintain, simple to get started, easy to use and support.
Sold as an account subscription package (based on storage, users and functionality required with user and storage upgrades options)
Developed on the EMC Documentum Enterprise Content Management Platform (128-bit SSL)
Hosted and managed at SAS 70 Type II data center.
Integration with MFPs via DocumentMall browser firmware for secure and direct scanning to DocumentMall over the internet.
Integrates with a variety of 3rd party document capture solutions.
Scanner and Internet Fax compatibility.
BlackBerry and iPhone account access.
Professional consulting services, DocumentMall account setup and outsourced document services (such as high-volume scanning) are available.
COMPLEMENTARY PRODUCTS
A variety of document capture solutions.