| | |
| --- | --- |
| MP C3504ex TE for Education | (SAVIN) |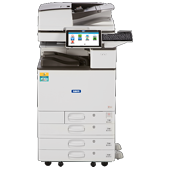 Product Overview
Collaborate with color printing on campus
Prints up to 35 ppm, copy, scan, fax
1200x1200 dpi max print resolution
Paper capacity of 2,200 pages
Use locking trays to protect your budget, authentication to help secure data
GENERAL FEATURES
Expand productivity on campus
Place the SAVIN MP C3504ex TE for Education in libraries, student centers and other shared use areas to move ideas quickly and securely. With this color multifunction printer (MFP), you can print up to 35 color pages per minute (ppm); scan notes, assignments, tests and more, and share them via scan-to capabilities; and fax transcripts and other documents without paper or delays. And do it all with collaboration and security features tailored for campus environments.
Be secure in your work
Multiple unique security features offer protection in areas with many users. Minimize paper theft with built-in locks on paper trays. Prevent non-standard paper feeds with a sealed bypass tray. Use optional fixed brackets to secure an integrated card reader and keyboard, and stop unauthorized users from gaining access.
Enhance what you can do together
Innovation leads to collaboration. The multifunction printer includes standard PostScript® and PDF Direct Print emulation to process your highest quality jobs with ease. Scan up to 180 images per minute (ipm) and store them into optional cloud applications, including Blackboard® Learn or Canvas® learning management systems (LMS)*. Authorized users can easily access the information from their desktop, smartphone or tablet. Use the embedded Document Server to store up to 3,000 frequently used files for fast, easy retrieval.
*Options required
Monitor documents, devices and data
With user authentication, students and staff log in via personal passcode or by swiping an ID card on an optional Near Field Communication (NFC) or HID card reader. Deploy optional third-party accounting software — such as PaperCut™ MF, Pharos® and Equitrac® — for accurate charge backs or optional device management software to track print and system settings remotely.
Automate to the finish
The optional Hybrid Stapleless + Stapler Finisher simplifies production on both smaller jobs without staples and larger jobs with staples. Choose from other finishing options to automate hole-punching, paper handling and other tasks and meet even the fastest turnaround times with less work and fewer supplies.
Use customization to tap into productivity
With the 10.1"-wide Smart Operation Panel (SOP) supported by Workstyle Innovation Technology, you can simplify everyday tasks through customization and automation. Add one-touch digital workflow shortcuts. Download widgets and other apps from our Application Site to reduce unnecessary steps. Technicians can add a logo or emblem, position touchscreen icons, post messages and more on the Home Screen with the SOP Designer tool.
Appreciate the freedom of mobile printing
Download the RICOH Smart Device Connector app to print nearly anything — including emails with images or PDF attachments — from your personal mobile device. Feel free to share that information immediately via your address book. Or, you can use the same app and display presentations from your smartphone or tablet on Savin projectors and Interactive Whiteboards in classrooms and lecture halls.
Simplify support the smart way*
Help others by helping yourself. With RemoteConnect Support, our experienced technicians can access your Smart Operation Panel remotely for fast, easy troubleshooting. With Remote Operation Panel and Lanier Device Manager NX, administrators can change system settings over the LAN. Simplify firmware and other upgrades independently with Automatic Remote Firmware Update. End users can access a list of FAQs with Web Help. Or, they can download an app from the Application Site and watch self-help videos.
*When enabled, internet connection required.
Save workloads in any environment
Thanks to an innovative built-in motion sensor, you can promptly start key-input operation upon touching the panel screen to wake the multifunction printer quickly from sleep mode. In addition, the MFP offers Typical Electricity Consumption of 1.3kWh/week and features an EPEAT® Gold rating and ENERGY STAR® certification.
GENERAL SPECIFICATIONS