| | |
| --- | --- |
| MP C3004SP TE for Education | (SAVIN) |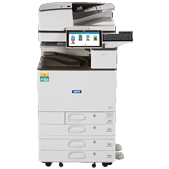 Product Overview
Bring color, convenience and affordability to campus
Prints up to 30 ppm, copy, scan, fax
1200x1200 dpi max print resolution
Paper capacity of 2,200 pages
Protect paper and workflows with unique security features
GENERAL FEATURES
Meet deadlines where you meet
Help people exchange knowledge quickly in the busiest places on campus. Place the compact and quiet MP C3004SP TE in student centers, libraries and computer labs so students and instructors can print, scan, copy and fax important classroom materials with ease and convenience — without taxing your budget.
Make a bigger, brighter, faster impact
Help students get their most compelling information into the right hands at the right time. They can use the large 10.1" Smart Operation Panel to produce up to 30 brilliant color pages per minute (ppm) with up to 1,200 dpi resolution. Help them move notes, tests and more in moments with duplex scanning at 180 images per minute (ipm) and a wide range of scan-to options. And the 2,200 sheet-capacity reduces unnecessary delays.
Pass through the cloud
The MP C3004SP TE's Workstyle Innovation Technology simplifies even your most complex tasks. Users can scan handwritten notes, inserts and other hardcopy documents to their choice of cloud applications — including Blackboard® Learn or other learning management systems (LMSs) — directly from the device. Students and educators can grab the new information in moments from any smartphone, tablet, laptop or desktop.
Follow the rules
Add users while reducing risks with the MP C3004SP TE. Mount your ID card reader directly to the MFP with optional integrated brackets and prevent people from removing it or cutting wires to avoid user authentication. Eliminate paper theft with a built-in lock on the paper trays. Plus, the bypass tray is sealed so users can't jam the device by using incompatible paper stocks.
Perform any task from anywhere*
Let everyone keep working, even on their way to class. With the MP C3004SP TE, users can grab a file from email, LMS or other digital applications and send it directly to the MFP — using their smartphones or tablets. They'll receive a print job code and be able to release the job securely once you reach the device.
*Options required
Pay the easy way*
Make sure everyone pays their fair share. Track users and output with ease. Take advantage of user authentication and optional tracking software to monitor usage and assign chargebacks to students, instructors and departments accurately. Auto-schedule the billing reports to simplify administrative tasks.
*Options required
Finish strong
Looking to conserve resources and eliminate the hassle of removing staples when shredding or recycling documents? With the optional Hybrid Stapleless + Stapler Finisher, you can complete documents with or without staples automatically, depending on the size of the job. Choose from a wide range of other finishers, including an internal stapleless finisher, to fit your unique paper-handling, stack, stapling and booklet-making requirements.
Plan to protect your future
Looking for environmentally-friendly features? Our new motion sensor activates the MFP as you approach, so you can keep the machine in Sleep Mode as much as possible and reduce energy consumption — without sacrificing productivity. Conserve energy costs and resources further by scheduling when the MFP powers off automatically, and taking advantage of default duplex printing. The MP C3004SP TE also features an EPEAT® Gold rating and ENERGY STAR™ certification.
Manage your fleet with ease
Simplify administrative tasks remotely. Use optional device management software to automate meter reads, update firmware, access system settings and check supply status from any web browser.
GENERAL SPECIFICATIONS