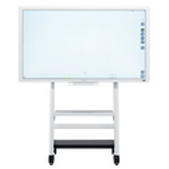 Product Overview
Touch up high-definition presentations quickly
Present on a 65" display panel
Impress with HD, LED backlit display
Connect to a laptop or mobile device
Instantly transform your computer or mobile screen for team collaboration
GENERAL FEATURES
Draw more attention to your big ideas
Give your audience something to look at - and something to do - with the RICOH D6500 Interactive Whiteboard. Connect your analog or digital video and audio devices and use it as a brilliant, standalone 65-inch LCD display. Or, connect it to your personal computer. With your own third-party interactive software, you can emulate mouse movements and mobile device controls on the IWB's touch panel to operate and modify applications on your PC or Mac.
An interactive whiteboard that's easy to connect and use
Don't keep your audience waiting for important information. Use the D6500 interactive digital whiteboard in Windows ®, Mac ® and Android ™ environments by connecting it via USB cable to your PC, tablet, smartphone, USB flash drive or other smart device. Within moments, you can present your messages while interacting with your audience and the whiteboard - all without adding software, making calibrations or requesting IT support.
Enhance presentations with a digital whiteboard
There shouldn't be any limits when sharing big ideas. We created the D6500 digital whiteboard to work directly with the interactive software on your computer to showcase information on a larger, more brilliant display. For example, if your software allows you to add shapes, notes and other markings to CAD drawings, you can make those changes on the large display, too. Zoom in on specific blueprints. Scroll between designs. Emulate mouse movements on the big screen so everybody can see even the finest details with ease.
A high-definition display shows off your brilliance
Make sure your audience can see accurate details every time by presenting with 1920x1020 dpi resolution. With the brighter colors, subtle shading and crisp text found only with high-definition interactive flat panel displays, every member of your audience - from those sitting in the front row to those standing in the back of the room - can see every detail of your drawings, schematics, blueprints, spreadsheets and more with incredible clarity.
Enhance your message, expand your audience
Get more feedback from more people by connecting the D6500 interactive whiteboard with other Ricoh devices. Set up your own videoconference by pairing it with a Ricoh video conferencing system and using the picture-in-picture feature to share your presentation remotely. Or combine it with a Ricoh projector to present to larger audiences in auditoriums, conference rooms and other locations without compromising image quality.
Collaborate confidently with on-call technical help
Give users direct access to technical assistance to help ensure successful meetings using the D6500 interactive whiteboard. RICOH Live Tech Support allows you to connect with a live agent by phone or video chat to resolve issues immediately. Keep collaborations productive while you make IT′s job a little bit easier.
GENERAL SPECIFICATIONS
DISPLAY PANEL
Panel Size
- Diagonal: 65" wide (1,651mm)
Display Type
- Liquid crystal display
Backlight
- LED system
Effective display area
(W x H)
- 56.2" x 31.6" (1,428.5 x 803.5 mm)
Resolution
- Maximum: 1,920 x 1,080 dpi
Color
- Maximum: Over 1.06 billion colors
Brightness
- Naximum: 360 cd/m²
Aspect Ratio
- 16 : 9
Contrast Ratio
- 4,000 : 1
Pixel pitch
- 0.744 x 0.744 mm
Response speed
- 8 ms (Grey to Grey, Ave.)
Viewing angle (H/V)
- 178°/178°
Display Orientatioin
- Landscape
TOUCH SENSOR
Technology
- Infrared touch
Touch Points
- >=5 mm
Accuracy
- +/-10 mm in touchable areas
Touch Points
- >=5 mm
Operating System
- Windows 7 Home Basic/Home Premium/Ultimate/Professional; Windows 8 and 8.1 Pro/Enterprise; Windows 10 Technical Preview; Windows Embedded Standard 7 P; Mac OS 10.6 and later
Touch Output
- USB 2.0 (Type B)
Cover Glass
- Pretreated anti-glare 4 mm thick
GENERAL
Video Input
- Display unit: Mini D-SUB15pin x 1, HDMI (HDCP x 2), HDMI (PC) x 1, DVI-D (HDCP x 1), DisplayPort (HDCP x 1), Composite x 1, Component x 1, S-Video x 1
Video Output
- VGA x 1, DVI x 1, Composite x 1
Interfaces
- USB 2.0 TYPE B x 1 for touch control
Network Connection
- Wired LAN: 10BASE-T/100BASET/ 1000BASE-T
Wireless LAN: Available with Wi-Fi converter (not supplied by Ricoh)
Audio Output
- Pin plugs (R+L) and terminals for 12W + 12W speakers
Dimensions (W x D x H)
- 60.3" x 4.96" x 38.8" (1,531 x 126 x 885 mm)
Weight
- Less than 162.8 lbs. (74 kg)
Power Source
- 100 - 240 V, 50/60 Hz
User functions
- 20 color pen, Select, Delete (Erase), Undo/Redo, Save to USB/Network Folder/Interactive Whiteboard, Open PDF and PPT files from USB and Network Folder, Screen Page Select, Capture Page, Add New Page, Captured Page List, Delete Page, Copy Page, Marker Function, Auto Firmware Download
Enhanced features
- Picture in Picture
Zooming
Recovery function
Email
Page Print
Data saving form: PDF v1.4
Max. page creation: 100
Max. strokes/page: 3,000
Remote sharing function*
- Up to 20 interactive whiteboards and projector systems
Up to 20 browser viewers per interactive whiteboard
Remote PC Operation
- No
ENVIRONMENTAL DATA
Noise
- Less than 40dB
Power Consumption
- Less than 300W (with controller)
Stand-by mode
- Less than 12W (without controller)
Recovery time from stand-by mode
- About 6 sec.
Operating temperature
- 0°C – 32°C
Operating humidity
- 10% – 80%
Altitude limitation
- Lower than 2,000m (sea level)
WHAT'S IN THE BOX
---
- Quick Guide and Safety Instruction, Warranty sheet, Customer registration postal card, RGB cable, USB cable. Power cord, Felt-tipped pen, Remote controller, AAA batteries (2)
OTHER FEATURES
---
- - Brightness will depend on input mode and other picture settings.
- Brightness level will decrease over time.
- USB with security or anti-virus software installed are not compatible.
- Remote sharing function requires Remote License.
- Remote License is required for collaborative meetings.
- For wall mounting, use a standard VESA 400x400 mount. Not supplied by Ricoh.
- Via intranet, required line speed: Min. 200Kbps, recommended over 512Kbps.
- For availability of models, options and software, please consult your local Ricoh supplier.