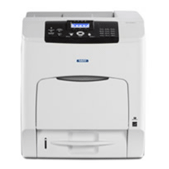 Product Overview
Make color, professional-looking printing more accessible
Prints up to 37 ppm
1200x1200 dpi max print resolution
Paper capacity up to 2,300 pages
Use a wider range of media, keep more jobs in-house
GENERAL FEATURES
Enjoy power and flexibility on any budget
The more time you spend searching for the right printer to do the right job, the longer your audience waits for valuable information. Print everything — including thick postcards, colorful brochures, piles of spreadsheets, business presentations, large 49" banners and more — with the affordable Savin SP C435DN Color Laser Printer, which is designed for small and medium-sized businesses and workgroups alike.
Fast print speeds get the message out just in time
Move information quickly with short warm-up times and print speeds up to 37 pages per minute. With up to five paper sources and a maximum paper capacity of up to 2,300 sheets, you can set different sources to handle different media types — making it easy to choose from multiple sizes, thicknesses and formats. Take advantage of the powerful processor and churn through multiple print jobs simultaneously, including large file sizes and extended print runs.
Be prepared to save money with this cost-efficient printer
Small business printers need to be cost-efficient. Store frequently used documents on the optional hard disk drive, and print them on demand to help eliminate expensive pre-printed forms. Cut paper usage in half with duplex printing for larger jobs, and be eco-conscious thanks to ENERGY STAR® certification and an EPEAT® Gold rating. Program the printer to shut down when the office is empty to further reduce energy costs. You can even reduce image density, so internal or draft documents can be produced using less toner — without compromising text legibility.

Mobile printing options let you print on the go
Be productive whenever and wherever you are via your smartphone, laptop or tablet. Download the RICOH Smart Device Print&Scan app to send jobs to the print queue at any time — from anywhere — and when you're ready, use a password at the device to release the job.** note: **Optional Hard Disk Drive required.
Support public and private users with with one network printer
Add a secondary network port to simultaneously support two independent networks. For example, your staff can print on your closed corporate network, while guests can use your public network. Eliminate the cost of maintaining a dedicated printer on each network, and help keep your primary network secure.
Show off what you can do
Produce a wide range of output with brilliant 1200 x 1200 dpi resolution to grab attention immediately. Take advantage of thicker stocks and produce more projects in-house, including envelopes and labels, for lower costs and fewer delays.
Printer management and monitoring keeps your data secure
It's your idea — make sure you control what happens to it. With user authentication, only authorized users can print from the device. And with up to 1,000 user codes, you can set print quotas, restrict color printing for specific users, and even limit who can connect to the printer with IP address filtering.