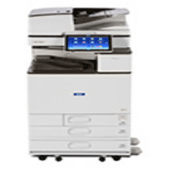 Product Overview
Improve productivity with personalized, powerful performance
Prints up to 60 ppm, copy, scan, fax
1200x1200 dpi max print resolution
Paper capacity of up to 4,700 pages
Use the Smart Operation Panel digital touch screen to customize workflows
GENERAL FEATURES
Customize workflows to work faster and smarter
With the Savin® MP C3004 Color Multifunction Printer (MFP) and its intuitive Workstyle Innovation Technology, you can create unique and integrated workflows for efficient printing, scanning, copying and faxing. Streamline your business processes, access cloud information and help mobile workers stay connected from anywhere.
Tap into a new way to work
With the all-digital 10.1" wide Smart Operation Panel featuring Workstyle Innovation Technology, you can tap icons to navigate between tasks and jobs with a single swipe or flick. Streamline business processes, access the cloud and support your mobile users. With this intelligent device, you can even set up one-touch paths for specialized workflows, including ID Card Copy and Easy Book Scan, for faster workflows.
Take productivity personally
Create iconic digital shortcuts and automate routine workflows with less repetition and fewer touchpoints. Every setting, from the number of prints to paper sizes to finishing options and more, is available at your fingertips. Check details and make adjustments instantly. Download workflow apps and place them on the Home Screen as widgets. Plus, you can add your choice of plug-and-play workflow software to simplify your workday.
Add color and professionalism to finished documents
Save money by producing higher-quality work internally. Take advantage of continuous calibration to create presentations and brochures on thicker paper stocks in vivid colors and sharpness at up to 1200 dpi resolution. Create posters by extending a single image over multiple pages. Add the Fiery® E-23C Color Controller for exceptional spot-color reproductions. Choose from multiple finishers, including a Hybrid Stapleless + Stapler Finisher, to stack and staple effortlessly.
Find what you're looking for
Search the Internet via the embedded web browser. Use optical character recognition (OCR) scanning to place metadata on documents, so they can be retrieved with a quick keyword search. You can even follow animated guides for paper misfeeds and correct them yourself in moments.
Put everything in the palm of your hand
Use your smartphone or tablet to print, scan and distribute information with unprecedented convenience. With the Ricoh Smart Device Connector App you can grab information from cloud applications and send it directly to the MFP. Or, you can scan the originals and send the files to your device to easily share information on the go. Add more flexibility with dual network ports, so you can work on two networks simultaneously.
Take charge by tracking everything
With user authentication, workers sign in to the MFP via passcodes and billing codes or swipe an identity card at an optional NFC Card Reader. Choose what permissions groups or individuals have. Set print quotas. Restrict color printing. Use Locked Print to help ensure that only authorized users can release and print documents. You can even assign chargebacks when you pair the MFP with accounting software such as Savin Device Manager NX.
Stay one step ahead with remote administration
Be proactive and use Device Manager NX to check settings online. With @Remote, you can track trends, collect meter readings and usage details and automate service calls. Update print drivers automatically with Savin Device Software Manager. You can also have Savin knowledgeable support desk staff operate and configure your Smart Operation Panel remotely for faster, better outcomes.
Save your energy, and your budget
Take advantage of low Typical Energy Consumption (TEC) levels and a special design that meets EPEAT® Gold criteria and ENERGY STAR™ certifications to reduce energy costs. Save even more with default duplex printing, automated shutdowns and personalized reminders that promote greener practices.
GENERAL SPECIFICATIONS
Configuration
- Desktop
Printing Process
- 4-Drum Method
Output Speed (Copy/Print)
- 60-ppm B&W & FC (LTR)
Warm-Up Time
- 24 seconds
Recovery from Sleep Mode
- Approximately 1.0 second (motion- Sleep Modesensor activated)
First Copy Time (FC/B&W)
- 4.5/3.1 seconds
Copy Resolution
- 600 dpi
Quantity Indicator
- Up to 999 copies
Single Pass Document Feeder (SPDF)
- Original Capacity: 220 sheets
Original Size: 5.5" x 8.5" – 11" x 17" (A5 – A3)
Paper Weight:
Simplex: 11 – 34 lb. Bond (40 – 128 g/m²)
Duplex: 14 – 34 lb. Bond (52 – 128 g/m²)
Paper Capacity
- Standard: 2 x 550 sheets + 100-SheetBypass Tray,
Maximum: 4,700 sheets(w/Tandem LCT + Side LCT)
Supported Paper Sizes
- 1st Paper Tray: 8.5" x 11" (A4)
2nd Paper Tray: 5.5" x 8.5" – 12" x 18", Envelopes
Bypass: Up to 12" x 18", Envelopes
Custom Sizes: Width: 3.5" – 12.6"(90 – 320 mm),
Length: 5.8" – 49.6" (148 – 1260 mm) Supported Paper Weights
Standard Trays: 16 – 80 lb. Bond/166 lb. Index (60 – 300 g/m2)
Bypass Tray: 14 – 80 lb. Bond/ 166 lb. Index (52 – 300 g/m2)
Duplex Unit: 14 – 68 lb. Bond/142 lb. Index (52 – 256 g/m2)
Paper Types
- Plain, Recycled, Special Paper 1-3, Letterhead, Cardstock, Preprinted Paper, Bond Paper, High-Gloss Coated Paper, Color Paper, Envelopes, Coated, Labels* & OHP*
Auto Duplex
- Standard
Output Capacity
- Standard: 500 sheets
Maximum: 3,625 sheets
Zoom
- 25% – 400% in 1% increments
Dimensions (W x D x H)
- 23.1" x 27.0" x 37.9" (587 x 685 x 963 mm)
Weight
- 228lbs.(103kg)
Power Requirements
- 120V – 127V, 60Hz, 15A
Power Consumption
- 1,584W or less; Sleep Mode: .79 or less
TEC Value**
- 2.8 kWh/week
*Bypass Tray Only ** Typical Electricity Consumption by ENERGY STAR Qualified Imaging Equipment Test Procedure
PRINTER SPECIFICATIONS (STANDARD)
CPU
- Intel Atom Processor Bay Trail 1.75 GHz
Memory /HDD
- 2 GB RAM/320GB HDD Standard & 4GB RAM/320 GB HDD Option
Page Description Languages
- Standard: PCL5c, PCL6, PDF
Optional: Adobe PostScript3, XPS, IPDS & PictBridge
Font Support
- Standard: PCL: 45 Scalable fonts +International 13 fonts
Optional: PostScript 3: 136 Roman fonts; IPDS: 108 Roman fonts
Max Print Resolution
- 1200 x 1200 dpi
Network Interfaces
- Standard: 1000Base-T/100Base-TX/10Base-T Ethernet, USB2.0 Type A (3 Ports), SD Slot on Operation Panel
Option: IEEE1284/ECP; IEEE802.11a/b/g/n; USB2.0 Type B
Network Protocol
- TCP/IP (IPv4, IPv6)
Network/OS
- Windows Vista/7/8/8.1/10/Server 2008/Server 2008R2/ Server2012/ Server2012R2
Unix; Sun Solaris, HP-UX, SCO OpenServer, RedHat Linux, IBM AIX, Citrix Presentation Server 4.5, XenApp 5.0,
Mac OS X v.10.7 or later, SAP R/3,IBM iSeries AS/400-using OS/400 Host Print Transform
Utilities
- Device Manager NX, Web Image Monitor, @Remote
DOCUMENT SERVER SPECIFICATIONS (STANDARD)
Max. Stored Documents
- 3,000
Max. Pages/Document
- 2,000
Max. Page Capacity
- 9,000
Max. Number of Folders
- 200
SCANNER SPECIFICATIONS (STANDARD)
Scanner Resolution
- B&W and FC scanning at 100 – 600 dpi, Up to 1200 dpi for TWAIN scanning
Scanning Speed (B&W & Color LTR)
- 200/300 dpi: 110 ipm Simplex/180 ipm Duplex
Scan Area
- 11.7" x 17" (297 mm – 432 mm)
Compression Method
- B&W TIFF: MH, MR, MMR, JBIG2
Color: JPEG
Supported File Formats
- Single/Multi-Page TIFF, PDF,High Compression PDF & PDF/A, Single Page JPEG
Scan Modes
- Scan-to-Email (with LDAP support)
Scan-to-Folder (SMB/FTP)
Scan-to-URL
Scan-to-Media (USB/SD Card)
Network TWAIN Scanning
FACSIMILE SPECIFICATIONS (OPTIONAL)
Type
- ITU-T (CCITT) G3
Circuit
- PSTN, PBX
Resolution
- 200 x 100 dpi, 200 x 200 dpi, 400 x400 dpi (with optional SAF memory)
Modem Speed
- 33.6K – 2,400 bps w/Auto Fallback
Compression Method
- MH, MR, MMR, JBIG
Transmission Speed
- G3: Approximately 2 seconds/page (JBIG)
Scanning Speed
- Up to 81 spm
Auto Dialing
- 2,000 Quick/Speed Dial numbers; 100 Group Dial numbers
Memory Capacity (SAF)
- Standard: 4 MB (approx. 320 pages),
Optional: 64 MB (approx. 4,800 pages) with optional SAF memory
SECURITY FEATURES (STANDARD)
---
- DataOverwriteSecurity System (DOSS), HDD Encryption, User Codes, SNMP v3 Support, Encryption, Locked Print, User Authentication, 802.1x Wired Authentication, Quota Setting/Account Limit, Digitally Signed PDF, and more