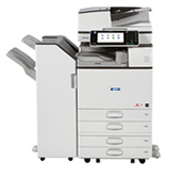 Product Overview
A solution to manage your best ideas
Prints up to 60 ppm, copy, scan, fax
1200x1200 dpi max print resolution
Paper capacity up to 4,700 pages
Standard 220-sheet single pass document feeder (SPDF)
GENERAL FEATURES
Share simply and share more
Set your ideas in high-speed motion with more people, in more locations and in less time, with the affordable Savin MP 6054 Black and White Laser Multifunction Printer (MFP). Capitalize on high speeds to effortlessly produce up to 60 black-and-white copies or pages per minute (ppm). Utilize 2GB of RAM to handle large files, and store commonly used documents on the 320GB HDD. Plus, share more with standard remote internet-fax, LAN-fax or IP-fax capabilities.
Get affordable, high-quality output
Quickly convert your important hard copies into digital files for easy sharing. Handle one- and two-sided originals for copying and faxing from the standard 220-sheet Single Pass Document Feeder (SPDF), and scan up to 180 images per minute (ipm) in color or black-and-white at up to 1200 dpi. Have a special project? Use thicker paper stocks and larger paper sizes up to 11" x 17" — including envelopes.
Move information in smarter ways
Share information easily, no matter where you are. Print and scan right from your smartphone with our SmartDevice Print & Scan app. With it, gain access to your local network, and to cloud-based documents with our Integrated Cloud Environment (ICE) option. Or, use Near Field Communication (NFC) technology to easily copy, print and scan — simply touch your smartphone to the 10.1" Smart Operation Panel.
Create professional finished output
Select your finishing features for high-quality, end-to-end document production. The MP 6054 offers a wide range of finishing options to match your work volume and meet your budget. Choose from a variety of internal and external finishers, and add options like hole-punching, shift-sort collating and more. Plus, expand your paper capacity to up to 4,700 pages to complete longer production runs in less time.
Keep your eco commitment
You don't have to sacrifice productivity for sustainability. The MP 6054 makes the grade with an EPEAT® Gold rating and is ENERGY STAR® certified. It features an extremely low Typical Electricity Consumption (TEC) value (as determined by ENERGY STAR program testing requirements), and helps reduce your paper use with features like automatic duplexing. Plus, Savin's consumable and product recycling programs make it easy to recycle.
Enjoy home-screen advantage
Discover a more intuitive, simple-to-use interface. The optional Smart Operation Panel helps you speed through commonly performed jobs with the customizable home screen — which you can customize again as your workflows change. Simplify routine jobs like printing, copying, scanning and faxing with familiar touch-screen controls, and use a centralized address book for faster communications.
Get security minded
Your documents are valuable — their protection is immeasurable. The DataOverwriteSecurity System (DOSS) automatically deletes any latent data from previous jobs. The optional Hard Disk Drive features encryption protocols to store and protect documents more securely. Plus, you can create individual user-authentication pin codes, and automatically embedded watermarks to help prevent unauthorized duplication.
Excel with go-to management tools
Keep your workflow moving and manage with confidence. Use Web Image Monitor functions to configure, organize, diagnose and update your networked MFP — all from a standard web browser. Save time with the @Remote internet-based tool, and automate meter reads, supplies alerts and schedule service calls. Or, use Or, use our Device Manager NX Lite app to configure and manage a fleet of networked printing devices in real-time.
Set the bar
Save in smarter ways, control costs and see user activity at a glance. Add the optional smart-card reader to the MP 6054 to set quotas, monitor usage and limit output for specific users or workgroups. It's also simple to make remote adjustments to permissions, and to easily calculate and separate costs by individual or workgroup. Plus, save time and cut costs by applying settings uniformly across networked device fleets.
GENERAL SPECIFICATIONS
ENGINE/COPIER SPECIFICATIONS
Scanning Element
- One Dimension solid scanning through CCD
Printing Process
- Twin Laser Beam Scanning & Electrophotographic Printing
Toner Type
- Dry, Dual Component
Copy Resolution
- 600 x 600 dpi
Maximum Copy Quantity
- Up to 999
First Page Out Time
- 2.9 Seconds for MP 5054/MP 6054
Warm-Up Time
- 14 seconds with Standard Operation Panel
Recovery Time From Sleep Mode
- 4.9 seconds
Memory (Standard/Maximum)
- 2 GB RAM + 320 GB HDD (Shared)
Original Type
- Book/Sheet/Object
Maximum Original Size
- Up to 11" x 17"
Print Speed (Letter)
- MP 6054: 60 prints/minute
Power Source
- 120V/60Hz/12A
Typical Electricity Consumption (TEC)**
- MP 6054: 2.6 kWh/week
Standard Paper Capacity
- 1,200 sheets (550 sheets x 2 trays, and 100-Sheet Bypass Tray)
Maximum Paper Capacity
- 4,700 sheets (w/Tandem LCT + Side LCT)
Supported Paper Types
- Plain Paper, transparencies*, etterhead, Color Paper, Pre-Punched Paper, Labels*, Envelopes, Cardstock, Recycled, Preprinted Paper, Bond Paper
Supported Paper Sizes
- Bypass Tray: 5.5" x 8.5" – 12" x 18" (A6 – A3)
Tray 1 & 2: 5.5" x 8.5" – 11" x 17" (A6 – A3)
Supported Paper Weights
- Duplex: 14 – 68 lb. Bond (52 – 256 g/m2)
Bypass: 14 – 80 lb. Bond (52 – 300 g/m2)
Tray 1 & 2: 16 – 80 lb. Bond (60 – 300 g/m2)
Standard Output Capacity
- 500 sheets
Maximum Output Capacity
- 3,625 sheets (Bridge Unit + 1 Bin + 3,000-Sheet Finisher)
Document Feeder Type
- Single Pass Document Feeder (SPDF)
Document Feeder Original Size
- 5.5" x 8.5" – 11" x 17" (A5 – A3)
Document Feeder Paper Weight
- Simplex: 11 – 34 lb. Bond (40 – 128 g/m2)
Duplex: 14 – 34 lb. Bond (52 – 128 g/m2)
Document Feeder Capacity
- 220 sheets
Preset Reduction and Enlargement Ratios
- 25%, 50%, 65%, 73%, 78%, 85%, 93%, 100%, 121%, 129%, 155%, 200%, 400%
Zoom Range
- 25% to 400% in 1% increments
Standard Features
- Auto Paper Select, Auto Tray Switch, Booklet/Magazine Copy, Center/Border Erase, Chapters, Combine Mode, Cover Insertion, Document Server (3,000 File Capacity), Duplex, lectronic/Rotate Sorting, Full-Color VGA Touch Screen Control Panel, ID Card Copy, 8 Job Presets, 25 Job Programs, Negative/Positive, OHP Slip Sheet, Sample Copy, Series Copy, Simple Screen, 1,000 User Codes, User Stamps
Dimensions (WxDxH) (includes ARDF)
- 23.1" x 26.8" x 37.9" (587 x 680 x 963 mm)
Weight
- 163.1 lbs., 74 kg
*Bypass Tray only
**Typical electricity consumption by ENERGY STAR program
PRINT SPECIFICATIONS
Processor Speed
- 533MHz
Connection Type
- Standard: 10Base-T/100/1000BaseTX Ethernet, USB2.0 Type A (2 ports on back of device, 1 port on Operation Panel), SD slot on Operation Panel, USB2.0 Type B
Optional: IEEE 802.11a/b/g/n Wireless LAN, USB Device Server (second NIC), & IEEE 1284 Parallel
Network Protocol
- TCP/IP (IPv4, IPv6), IPX/SPX*
Supported Operating Systems
- Windows Vista/7/8/XP, Windows Server 2003/2003R2/2008/2008R2/2012/2012R2;
Netware* 6.5 or later, Unix Filters for Sun Solaris, HP-UX, SCO OpenServer, Red Hat Linux, IBM AIX, Mac OS X 10.6 or later, SAP R/3, NDPS Gateway, IBM iSeries/AS/400® using OS/400 Host Print Transform, Citrix Presentation Server 4.5/Citrix Xen App 5.0, 6.0, 6.5
Device Management Utilities
- Web Image Monitor, Embedded @Remote, @Remote Office Appliance, @Remote Enterprise Pro, Device Manager NX Lite and Accounting, Device Manager NX Pro and Enterprise, @Remote Connector NX
Printer Languages
- Standard: PCL5e/6, Optional: Adobe PostScript 3®, IPDS & XPS
Print Resolution
- Up to 1200 x 1200 dpi
Font Support
- PCL5e/6: 45 Scalable Fonts, 13 International Fonts
PS3: 136 Roman Fonts (optional)
IPDS: 108 Roman Fonts (optional)
Standard Features
- Sample/Locked/Hold/Stored Print
*Requires optional SD Card for Netware
SCANNER SPECIFICATIONS
Scanning Speed
- BW: 61 ipm (@200 dpi, 8.5" x 11" LEF)
FC: 31 ipm (@200 dpi)
Scanning Resolution
- Up to 600 dpi
Grayscale
- 256 levels
Scan Area
- Up to 11" x 17"
Standard Interfaces
- 10BaseT/100BaseTX Ethernet
Optional Interfaces
- Wireless LAN (802.11a/b/g), Gigabit Ethernet
Protocol
- TCP/IP, SMTP, SMB, FTP, POP3, NCP**
Memory Capacity
- Shared with Copier Memory
Standard Features
- Embedded Scan-to-Email, HDD, Folder, URL, Color Scanning
File Formats
- Single-Page and Multi-Page TIFF, PDF, High Compression PDF, Single-Page JPEG, Single and Multiple page PDF/A
**Requires Netware and Print/Scan Options
FAX SPECIFICATIONS (OPTION)
Circuit
- PSTN, PBX
Compatibility
- ITU-T G3
Resolution
- 200 x 200/100 dpi (Standard)
400 x 400 dpi (Optional)
Compression Method
- MH, MR, MMR, JBIG
Scanning Speed (LEF)
- Up to 68 spm (Letter/A4)
Modem Speed
- 33.6 Kbps with Auto Fallback
Transmission Speed
- G3: 3 seconds per page (MMR Compression)
G3: 2 seconds per page (JBIG Compression)
SAF Memory
- 4 MB standard/60 MB maximum 320 pages/4,800 pages
Max Auto Dials
- 2,000
Group Dials
- 100 (max. 500 numbers per group)
Standard Features
- Dual Access, Duplex Reception, Image Rotation, 1 Hour Backup, LAN-Fax Capability, Internet Faxing (T.37), IP Faxing (T.38), Fax Forwarding to E-Mail/HDD/Folder
Optional Features
- Simultaneous operation of up to 3 lines (G3 x 3)
SECURITY FEATURES
---
- HDD Encryption, HDD Data Overwrite, Quota Limit Setting, SMTP over SSL, S/MIME, IPsec Communication, Locked Print Password Encryption, Encrypt Address Book, SSL Secure Socket Layer, Windows/LDAP/User Authentication, SNMP v3, Encryption of Password PDF, Encrypted PDF, IP Filtering