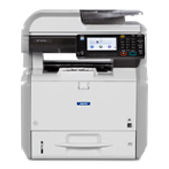 Product Overview
Get high volume power for your small workgroup
Prints up to 42 ppm, copy, scan, fax
1200x1200 dpi max print resolution
Paper capacity up to 1,600 pages
Optimize performance using custom settings
GENERAL FEATURES
Enjoy MFP capabilities in a compact size
Fuel your big ideas, spare your budget and meet projects head-on with the Savin MP 401SPF Black and White Laser Multifunction Printer (MFP). Enjoy simple-to-use features to copy, scan, print, fax and more. Speed through document tasks with 42 page-per-minute (ppm) printing, automatic duplexing, a 50-sheet Automatic Reverse Document Feeder (ARDF) and a total paper capacity of up to 1,600 pages. Plus, it's compact enough to fit on a desktop, yet can support busy individuals, small offices or entire workgroups.
Access the cloud and maximize mobile printing
Use the cloud to access and manage your information, wherever you are. Connect through our Integrated Cloud Environment (ICE) to access your information conveniently stored on cloud services, without the need for on-site servers, system integration or software updates. Need to carry information with you? Take documents on the go and print directly from a USB drive or SD card.
Multitask the eco-friendly way
Cut operating costs. The MP 401SPF meets EPEAT®* Silver criteria, and is certified with the latest ENERGY STAR® specifications. Default duplex-printing mode saves paper, the Energy Saver Timer reduces inadvertent power consumption, and the fusing unit powers on only for immediate printing tasks. Plus, Savin's consumable and product recycling programs make it easy to recycle.
*EPEAT is a comprehensive environmental procurement program based on IEEE 1680 International Standards. The EPEAT rating is applicable only in the U.S.A.
Lock down sensitive information
The ability to share information quickly is a competitive advantage, so do it safely. Ask users to authenticate themselves, so you can monitor who's doing what on the device. Help protect images and data on the hard drive with embedded encryption. The DataOverwriteSecurity System (DOSS) destroys latent hard drive information by overwriting it.
Lock down your sensitive data
Help safeguard your essential documents. The optional Hard Disk Drive offers encryption to keep stored documents safer, while the DataOverwriteSecurity System (DOSS) automatically overwrites any files you leave on the drive. The optional Locked Print feature requires a password to release files for printing, helping to further protect and secure documents.
Complete tasks in less time
Save time and energy with built-in productivity features. Efficiently scan and save documents using the embedded Optical Character Recognition (OCR). This feature intersperses invisible, searchable metadata into scanned documents, making text selectable and keyword searchable, for documents that are more robust and faithful to their originals. Plus, scan two-sided documents, such as patient insurance cards, onto a single sheet of paper using the ID Card Copy feature.
Customize your device settings
Personalize your home screen control panel, and create one-step presets for frequently performed tasks. Conveniently manage and display your shortcuts on the 4.3" color touch-panel display, and use them to speed through a wide range of jobs. You can also create shortcuts for individuals, a small department or for an entire office.
Remotely manage your printer fleet
Manage important tasks from your desktop using the @Remote internet-based tool. Use it to monitor device usage, automate meter reads and relay toner alerts. Plus, the tools can be set to quickly and automatically alert a service provider to address challenges before they begin, to minimize costs and downtime.
GENERAL SPECIFICATIONS
ENGINE/GENERAL SPECIFICATIONS
Scanning Element
- LED array
Printing Process
- Dry, single component & electrophotographic printing
System Memory
- 1 GB (RAM) standard
Output Speed (Copy/Print)
- Up to 42 ppm (Letter)
First Copy Time
- 6 seconds or less
Recovery Time to Print Ready Mode
- Less than 14 seconds (from main power switch on)
Copy Resolution
- 600 x 600 dpi (platen), 600 x 300 (ARDF)
Grayscale
- 256 levels
Exposure Adjustment
- Manual and automatic
Multiple Copies
- Up to 99
Document Feeder (Standard)
- Automatic Reversing Document Feeder (ARDF)
Original Capacity
- 50 sheets (ARDF)
Paper Sizes
- 5.5" x 8.5" to 8.5" x 14" (A4/A5/A6/B5/B6/ Legal/Letter/HLT/Executive/Folio) Trays Custom Size: 3.94" x 5.82" to 8.50" x 14.0" (100 x 148 mm to 216 x 356 mm) Bypass Custom Size: 2.37" x 5" to 8.5" x 35.43" (60 x 127 mm to 216 x 900 mm)
Input Capacity
- Standard: 500 sheets + 100-Sheet Bypass Tray
Optional: 500 sheets x 1 or 2 Trays, 250 sheets x 1 or 2 trays
Maximum capacity: 1,600 sheets
Output Capacity
- 250 sheets (internal tray)
Paper Types
- Recycled, Colored, letterhead, Preprinted, Plain Special, Thick, Thin, Bond, Cardstock, Prepunched, OHP (Transparency)*, Envelopes*, Label Stock*
Auto Duplex
- Standard
Zoom
- 25% to 400% in 1% increments
Preset Reduction and Enlargement Ratios
- 65%, 78%, 93%, 129%, 155%
Dimensions (W x D x H)
- 16.5" x 16.8" x 19.0" (419 x 427 x 484 mm) – includes ARDF
Weight
- 50.6 lbs./ Less than 23 kg
Power Requirements
- 120V, 60Hz
Power Consumption
- Less than 1.180 kW (max)
Sleep Mode
- 0.59W
TEC Value
- 1.756 kWh/week***
Standard Features
- ID Copy, Eco-Friendly Indicator, Auto Tray Switch, Document Server**, MFP Browser**, Image Rotation, Power On/Off Timer, Auto Start, Auto Off Timer, Combine Copy, Electronic Sort, Energy Saver Timer, Photo Mode, Series Copy, Margin Adjust, Cover/Slip Sheets, Job Programs (25), User Codes (8 digits, 1,000 Personal Codes), Unauthorized Copy Control
*Bypass Tray only.
**HDD option required.
*** Typical Electricity Consumption by ENERGY STAR program.
PRINTER SPECIFICATIONS
CPU
- RM7035C - 533MHz
Memory Capacity
- Standard: 1 GB RAM, Optional 250 GB HDD
Page Description Languages
- Standard: PCL5e/6, Genuine Adobe® PostScript®3™, XPS (available as an option)
Maximum Print Resolution
- 1200 x 1200 dpi
Standard Interfaces
- Ethernet (RJ-45 network port: 10BASE-T/100BASE-TX/1000BASE-T), USB 2.0
Optional Interfaces
- IEEE 1284, Wireless LAN (IEEE 802.11a/b/g/n)
Network Protocols
- TCP/IP (IPv4, IPv6)
Fonts for PCL5e/6
- 45 Roman fonts and 13 international fonts
Fonts for PS3
- 136 Roman fonts
Network Operating Systems
- Windows XP/Server 2003/Vista/Server 2008/7/8/Server 2012; UNIX Filters for Sun Solaris 2.6/7/8/9/10; HP-UX 10.x/11.x/11iv2/11iv3; Red Hat Linux Enterprise V4, V5, V6; SCO OpenServer 5.0.6/5.0.7/6.0; IBM AIX Version 5.3, 6.1, 7.1; SAP R/3, 3.x or later, mySAP ERP2004 or later; Mac OSX 10.2 or later; Citrix Metaframe XP/ Presentation Server 4/5/XenApp 5.0, 6.0
Utilities
- Web SmartDeviceMonitor, Web Image Monitor, @Remote, Device Manager NX
Other Features
- Media Direct Print (Print from USB/SD)1, Mobile Driver, Bonjour Support, Classification Code, Mail to Print1, PDF Direct Print, Sample/Hold/Stored/Locked/Scheduled Print1, Store and Print1, Banner Page Print, Auto Job Promotion, Windows Active Directory Support, DDNS Support, WS Printer, PCL Resident Font Adoption, Tray-Parameter Change from WebImageMonitor, XPS Support 1HDD option required.
SCANNER SPECIFICATIONS
Scanning Speed
- 32/30 ipm @ 300 dpi B/W (LT/A4)
21/20 ipm @ 300 dpi Full-Color (LT/A4)
Scanning Resolution
- 100 to 600 dpi
Scan Area
- Main: 8.5" (216 mm)
Sub Document Feeder/Platen: 23.6"/11.7" (600/297 mm)
Compression Method
- BW: TIFF (MH, MR, MMR) , JBIG, JBIG2
Full-Color: JPEG
FAX SPECIFICATIONS
Scan Speed
- Up to 22 SPM (Letter/A4)
Transmission Speed
- G3: Approx. 2 seconds/page (w/JBIG compression)
Memory
- 4 MB (approx. 320 pages)
Quick/Speed Dials
- 1,000 (2,000 with HDD Option)
Group Dials
- 100 groups
User Function Key
- 3 keys
Standard Features
- Detection of Misplaced Documents, Double Check Destination Address, Direct SMTP, Simultaneous Fax and Scan, Fax Forward to Email/Folder, Internet Fax (T.37)1, IP Fax (T.38)*, LAN Fax, Paperless Fax*, LDAP Support
*HDD Option Required