| | |
| --- | --- |
| GlobalScan™ NX Server 5 | (SAVIN) |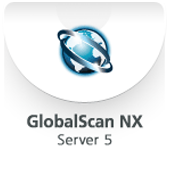 Product Overview
GlobalScan NX Server 5 is ideal for small businesses, yet provides the robust capture and distribution capabilities customers expect from GlobalScan NX. GlobalScan NX Server 5 converts scanned paper documents into electronic files and routes them to network folders, email addresses, fax servers, into Microsoft Sharepoint and other line of business systems.
ABOUT GLOBALSCAN™ NX SERVER 32
Simple to use document capture and distribution solution using networked Multifunction Products (MFPs)
User-friendly interface with large customizable buttons
Intuitive admin tools to pre-set and configure workflows
Ideal for small/medium size businesses, departments or branch offices, yet scalable to grow with you
EFI Plug-ins for GlobalScan NX including Documentum CS, SharePoint, DocumentMall and more
MAJOR APPLICATIONS
Preserve business paper documents electronically in an organized file system
Automate paper-based processes
Secure scanning to protect confidential data and meet security policies and regulations
Cost reduction in overnight delivery, faxing, storage and document handling costs
BENEFITS
Dramatically reduces professional IT services required to setup and maintain scanning into content management and line of business systems.
Reduces the number of steps to complete a scanning job
Simple operation increases user acceptance and reduces errors
Digital documents save storage space and improve information flow
Electronic document routing reduces or eliminates courier service fees and speeds delivery
Increases the Return on Investment (ROI) from networked MFPs
USING GLOBALSCAN™ NX SERVER 32
User-friendly, customizable display with large graphical buttons
Scanning projects are pre-set by administrators and mapped to buttons (including distribution to multiple destinations at once)
Combine scans from Flatbed and Auto Document Feeder in one job
Preview documents (incl. zoom in/out) at the MFP before they're distributed
Enhance images with included plug-in (hole punch removal, deskew, despeckle)
Route documents to email addresses in the company address book, fax server, network folders, home folders, FTP, line of business systems and document archives
Supports a variety of image file formats including: TIFF, JPEG, PNG, DCX, BMP, GIF, PDF (incl. searchable, password protected and high compression)
Optical Character Recognition (OCR) creates editable file formats including: searchable PDF, RTF (Microsoft® Word and Word Perfect), XLS (Microsoft® Excel)
OCR engine powered by ABBYY delivers up to 99.8% accuracy and converts scanned documents into editable file formats including: searchable PDF, RTF (Microsoft® Word and Word Perfect), XLS (Microsoft® Excel, even preserving the formatting of tables and diagrams)
Meta data can be entered using an external keyboard
Automatically routes incoming faxes to select network folders (with fax-enabled MFPs)
PLUG-INS
Image Enhancement Plug-in (Included Free) – Image processes that can be performed include: hole punch removal, deskew and despekle of scanned documents
RightFAX Plug-in (Optional) - Enables the sending of documents from GlobalScan NX to a RightFAX address via the RightFAX server - all directly from the MFP control panel. Provides scanned document distribution by fax without the need for a fax-enabled MFP
"HotFolder" Plug-in (Optional) - Lets administrators specify a folder to monitor. Files deposited into the folder are automatically imported by GlobalScan NX and delivered according to rules specified by the administrator.
SharePoint Plug-in (Optional) - Allows GlobalScan Server 750 to scan documents into Microsoft SharePoint including automatic generation of folders and associated document information
Barcode Plug-in (Optional) - Gives GlobalScan Server 750 the ability to read barcodes in a document, route the document based on this data and extract document description information for processing. Linear and 2D barcodes supported
DocumentMall™ Plug-in (Optional) - Scanned documents can be routed into a DocumentMall online storage account. GlobalScan NX automatically delivers the document with its metadata and generates a DocumentMall folder.
Zonal OCR Plug-in - The Zonal OCR Plug-in will support up to 100 registerable forms and up to 5 zonal OCR areas. The Zonal OCR Plug-in includes the zone form setting tool and filter which is used in specific configurations such as selection of the preset form, target job section and error handling. The Hotfolder Zone OCR Plug-in allows for forms processing from non-Ricoh MFPs or scanners using rules applied to the folder for specific document types. For improved results use the Free Image correction plug-in.
IMPLEMENTING THIS SOLUTION
Supports up to 32 MFPs
64 bit native support for Windows® server 2008 R2 environments
128 bit encrypted transmission of scanned documents using HTTPS
Enhanced security by not using the MFPs internal hard drive for image storage
Live LDAP reflects E-mail server changes instantly at the MFP
Centrally manage: groups, devices, servers, access logs and more
Configuration Wizard to easily create scanning projects
Network log-in authentication
Optional Kerberos authentication
Optional linear & 2D barcode support
Optional failover support for the server
Meets XML metadata standards for import into XML/WebDAV systems
Single sign-on with optional Card Authentication Package (CAP)
Open architecture
COMPLEMENTARY PRODUCTS
Card Authentication Package (CAP)
DocumentMall™
Personal Paperless Document Manager (PPDM)
Fiery Controllers (GlobalScan NX is compatible with the MP C2800/C3300 when used with the Fiery E3100 Controller; and with the MP C4000/C5000 when used with the Fiery E5100 Controller)
Optional External Keyboard - The external keyboard provides an alternate way to enter data at the device when using GlobalScan NX
SPECIFICATIONS
No information currently available.