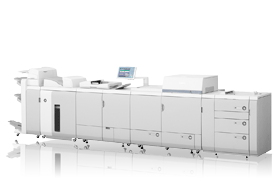 The imagePRESS C6010VP digital press is built on the same core architecture as the imagePRESS C7010VP digital press and priced to be more accessible to a broader range of printing operations. The imagePRESS C6010VP is ideal for mid to large size production environments that want a full featured digital press that makes good business sense.
At 60 letter-sized pages per minute, the imagePRESS C6010VP digital press gives you the power to handle increasingly complex job requirements, speed and reliability to meet tight deadlines. With its outstanding image quality and consistent color matching this digital press can satisfy most discriminating customers. Not to mention, versatility to help keep pace with evolving production needs.
With a true 1200 x 1200 dpi resolution and 256 levels of grayscale, the imagePRESS C6010VP consistently reproduces clear, sharp images with the lifelike skin tones, smooth gradients, and color accuracy needed to satisfy even the most perceptive buyers of printed materials.
The imagePRESS C6010VP is built to provide the dependability and consistency you need to meet your production schedules. It is designed to avoid slowdowns and downtime and help you reach your full potential for productive, profitable operations.