| | |
| --- | --- |
| eCopy ShareScan v5 | (SAVIN) |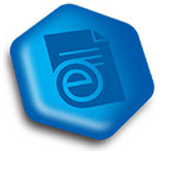 Product Overview
eCopy ShareScan v5 extends its lead with an exceptionally simple, yet capability-rich user experience that engages and empowers all areas of your organization in your efforts to increase office productivity and shrink your environmental footprint by automating paper-intensive processes securely using your Ricoh MFP.
ABOUT ECOPY SHARESCAN V5
eCopy ShareScan v5 offers a wide range of tools that enable users to accomplish more work in less time, no matter what kinds of documents are involved.
Distribute scanned files to numerous destinations, including network file folders, fax numbers, Microsoft Exchange/Outlook and IBM Lotus Notes e-mail.
Integrate paper documents with leading business applications by adding optional plug-in connectors. With eCopy's library of connectors, you can achieve native integration with enterprise applications that are critical to your organization.
Convert paper documents into electronic files for immediate distribution, processing, indexing, storage or archiving.
Integrate directly with network repositories, enterprise content management platforms or document accounting systems.
Execute complex imaging processes easily when scanning files with additional Business Automation Services.
Automate routine scanning tasks such as naming, batching, splitting, filing, indexing and routing scanned documents by reading barcodes.
Use Image Enhancement processes to "clean up" scanned documents.
eCopy ShareScan v5 Elements Base enterprise scan-to-file and scan-and-send solution sets a new standard for usability, security, expandability and administration.
eCopy ShareScan v5 Office Advanced scanning, OCR and archival solution for general office document distribution, collaboration and archiving.
eCopy ShareScan v5 Suite Advanced document automation with MFP scanning and OCR that streamlines structured document workflows.
eCopy ShareScan v5 ScanStation Kiosk ensures high security, accessibility and indexing quality control from TWAIN and ISIS MFPs and scanners.
MAJOR APPLICATIONS
Process Forms Faster With zonal OCR, you can home-in on precise, pre-defined fields, extract data, and pass it to back-end applications.
Automatically Convert Hardcopy Originals into Accurate, Formatted, Editable Softcopy Scan, convert, and edit Microsoft Word, Excel, and PDF files–including columns, graphics, and tables. You save time and money, with high accuracy and less reformatting.
Streamlined Archival with Flexible ECM Options eCopy ShareScan Suite provides complete integration to content management, network folders, SQL databases, and more. Connect with leading ECMs such as SharePoint, RightFax, EMC Documentum, iManage WorkSite, OpenText DM, or OpenText eDOCS.
Industry-Leading Mail and File System Integration Access global and personal address books and browse folders right at the copier – no need to go back to your desk to file or route documents.
The "Express" mode automates routine e-mail distributions and sent e-mail appears in the user's personal "Sent Items" folder.
Healthcare institutions use eCopy regain control over paper-intensive clinical, billing, regulatory, and administrative processes and achieve exceptional efficiency along with significant cost savings, greater security, improved traceability, and increased productivity.
Educators use eCopy to manage student records, streamline admissions, bring greater efficiency to the registrar's office, improve financial-aid processes, and strengthen FERPA compliance.
eCopy helps financial services firms "go paperless" by scanning and electronically routing and filing a range of documents – from loan applications and monthly statements to tax documents and SEC regulatory filings.
From contract/bid management and Freedom of Information Act (FOIA) requests to benefits and grants processing and claims management, government processes are inherently paper-intensive. eCopy helps federal, state and local government offices improve processing, archiving, distributing and sharing paper and digital documents.
eCopy helps insurance carriers and agents accelerate and streamline new-account openings and claims processing. Reduce your environmental footprint by cutting your consumption of paper, shipping of documents, maintaining conditioned document storage.
eCopy helps law firms file documents with the courts electronically, manage paper client matter more efficiently, reduces time spent conducting document discovery, redact documents faster and more precisely, track and bill clients for document scanning, faxing and distribution.
With so many people and companies involved in a typical construction project, collaboration – especially over large distances – can be a major challenge. Communication, particularly with numerous construction documents, contracts, bids, blueprints, renderings, invoices, and more, is a critical part of the construction workflow. Bid management, customer relationship management (CRM), construction management, and insurance certificate and contract management initiatives, processes, and systems all bring added levels of complexity to the challenges as well.
Manufacturing firms use eCopy to more efficiently process invoices, purchasing and logistics documents and manage and review contracts.
BENEFITS
Increase Access to Information – eCopy converts paper documents into accurately replicated, text-searchable industry standard PDF and Word documents and integrates them into your online document management, collaboration and archival solutions. The result is less time spent searching through files to find the right documents.
Dramatically Improve Efficiency & Productivity - eCopy enables knowledge workers to work with documents more efficiently online, in the systems they use to do their work and eliminate time spent recreating information in paper.
Accelerate Document Processing - Automate the processing of paper forms to accelerate business processes, reduce errors, and cut costs significantly. eCopy homes in on precise fields, extracts key data from the scanned document, and passes that data to backend applications for faster, more efficient workflows.
USING ECOPY SHARESCAN V5
Complete business processes right at the MFP with the forms processing extender. Simply scan a file, validate captured data and make corrections. ShareScan v5 then classifies, indexes and stores the file in an archive — and posts the extracted data to relevant business systems automatically.
Strengthen security with automatic redaction. Enter the text to redact and scan the file. eCopy automatically searches for the text and prints, archives or distributes the redacted PDF for review. This is ideal for ensuring compliance with privacy standards and reducing the risk of human error.
Save time with automatic highlighting. This works exactly the same as automatic redaction, and helps recipients read only pertinent information in longer files.
Distribute documents automatically according to content-based (OCR zones, file name or index data) or rules-based (if/then, greater/less than) routing. Customizable XML output enables integration into ERP, HL7, Oracle and other platforms.
Distribute documents automatically according to content-based (OCR zones, file name or index data) or rules-based (if/then, greater/less than) routing. Customizable XML output enables integration into ERP, HL7, Oracle and other platforms.
Add Bates/Endorsement stamps to a scanned file.
Discover a user-friendly interface that replicates the familiar touch-screen experience of smart phones and other handheld devices
Access frequently used scanning workflows right at the MFP with the "follow me" view and complete tasks faster with convenient scrolling and fly-out menus.
Choose from real-time or offline job processing. Use time-saving Scan & Go to start a job and walk away, then receive email notification when it is finished.
Personalize scanning workflows with role-based profiles based on your department or job description.
Personalize scanning workflows with role-based profiles based on your department or job description.
Create your own departmental or enterprise-wide workflows with "Quick Connect" using "Scan-to" profiles
Intuitive graphical user interface and consistent user experience across all MFPs
Provides audit trails, document tracking, PDF/A document scanning and file encryption
Scan to desktop, including the ability to scan to multiple users' in-boxes
Scan to e-mail directly from user e-mail accounts and email address lists accessed from the MFP
Scan to fax, network or web folders, databases, or FTP
CONNECTORS & EXTENDERS
eCopy is built on an extensible platform, which enables customers and partners to further expand the functionality of eCopy with the addition of Application Connectors and Document Process Extenders
eCopy Business Application Connectors enable office workers to send documents from network MFP and scanning devices directly into business applications and enterprise content management systems.
eCopy Document Process Extenders add robust document automation capabilities to eCopy ShareScan, accelerating a wide range of paper-to-digital document workflows.
Most Connections, Most Choices – eCopy offers the greatest number of connectors & extenders on the market
IMPLEMENTING & MANAGING THIS SOLUTION
Easy, Centralized Administration
Network administrators will appreciate all of the ways eCopy ShareScan v5 helps simplify administrative tasks and reduce the burden on IT.
Ensure easy management with a three-tier architecture that separates processing and data management, and keeps all updates in a single, easily accessible location
Use a single, secure back-up point to maintain service continuity. All settings and profiles are stored in a SQL database on a secure server, and configuration changes auto-synch with ShareScan managers.
Eliminate clutter with an intuitive administration console, featuring a ribbon menu and contextual panes for easy access to settings.
Configure and manage an entire fleet of eCopy ShareScan v5 clients via remote workstations. Monitor devices, device groups or the entire fleet and centrally track activity by device, user, connector or job status.
Try new workflows prior to rollout with the integrated workflow simulator. It simplifies configuration, testing and deployment to save time, eliminates service disruptions and speed user acceptance.
Maximize configuration flexibility. Use custom-defined roles linked to devices, users or groups. Interchangeable extender and connector profiles enable unlimited workflow possibilities. It is also easy to add new users and devices
Assure proper service levels and fleet optimization with graphical reporting. Quickly identify trends and inactive devices, and export reports to managers.
Simplify document automation with dynamic two-way connectors that enable real-time interaction with back-end destinations
COMPLEMENTARY SOLUTIONS
eCopy PDF Pro Office
eCopy Application Connectors
eCopy Document Processing Extenders
3rd Party Connectors & Extenders
eCopy ShareScan SDK
Optional External Keyboard - The external keyboard provides an alternate way to enter data at the device when using eCopy ShareScan
SPECIFICATIONS
No information currently available.