| | |
| --- | --- |
| eCopy PDF Pro Office | (SAVIN) |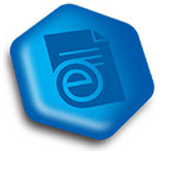 Product Overview
eCopy PDF Pro Office, the latest enterprise-ready PDF solution from Nuance, is the smarter PDF desktop software companion to MFPs. It's a powerful, easy-to-use PDF solution that lets you create, convert, and collaborate like never before for dramatic productivity gains and cost savings. What's more, eCopy PDF Pro Office is available at one-third the price of products with comparable capabilities, so you get exceptional value without compromise.
ABOUT ECOPY PDF PRO OFFICE
There are many competitively-priced software companion products to MFPs that can create PDF.
There are some that can create imposition files for production print jobs. And a few can even automatically redact scanned documents. But only eCopy PDF Pro Office from Nuance enables professionals to perform all these tasks — and more — using a single, lightweight software package.
Create 100% industry-standard, universally viewable PDF files from any PC application. Or convert to PDF from within Microsoft® Office documents or create PDF files of any document with a single click while browsing with Windows®.
Plus, eCopy PDF Pro Office is the only PDF desktop software solution that's integrated with eCopy ShareScan® — the leading MFP scanning and OCR solution — to deliver the most streamlined experience when scanning from a networked MFP to your desktop.
MAJOR APPLICATIONS
Designed specifically for the business user, eCopy PDF Pro Office is the most complete desktop PDF solution available today.
eCopy PDF Pro Office can be used as a powerful, stand-alone software tool that puts advanced PDF, forms, and mark-up capabilities just a click away, or as an integrated companion to eCopy ShareScan® to deliver the most streamlined experience when scanning from a networked MFP to your desktop.
BENEFITS
Save time with accurate document conversion. eCopy PDF Pro Office provides the most accurate conversion of PDF files into editable, searchable XPS, Corel® WordPerfect® and Microsoft® Word, Excel® or PowerPoint® documents — complete with fully-formatted text, columns, tables, and graphics. It even lets you combine all pages of a PDF document into a single Excel worksheet.
Create professional looking documents. Combine any type of file and/or folder into striking PDF Portfolios that are viewable with any popular PDF reader.
Share ideas more effectively. Users across the enterprise can collaborate more effectively with annotation tools that let you add notes, stamps, call-outs, and more to PDF documents.
USING ECOPY PDF PRO OFFICE
Create, edit, and mark up industry-standard PDF files
Convert PDF to and from Office formats
Redact and highlight automatically with Advanced Search
Sign documents electronically
Compare document versions automatically
Convert and create forms
Connect with popular Enterprise Content Management solutions
IMPLEMENTING THIS SOLUTION
Connect seamlessly to Microsoft® SharePoint® Services v3, Servers 2003, 2007, 2010; Autonomy iManage WorkSite 8.3,8.5; OpenText DocsOpen 4, Connectivity Solutions (eDocs/Hummingbird) 6, 5.2 LiveLink 9.7; and LexisNexis CaseMap 8.5 for enterprise-wide document management from each user's desktop.
Integrates with Windows 7 and Microsoft Word, Excel, PowerPoint and Outlook
Requires little training and is easy to support with centralized administration
COMPLEMENTARY PRODUCTS
Use with eCopy ShareScan.
SPECIFICATIONS
No information currently available.