| | |
| --- | --- |
| Canofile for Windows Software | (Canon) |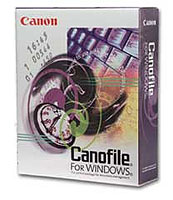 Canofile for Windows Software connects all phases of the document lifecycle; scanning, storage, retrieval and printing; through a powerful Windows-based PC solution. A solution so versatile, it can be utilized in stand-alone or networked office environments and effectively manages all your files.
The Canofile for Windows system is a powerful tool to capture and retrieve archived documents. Rapid, flexible search and storage parameters like namable Index Cells enable users to customize the system to conform to the specific needs of any business. And the user-friendly interface lets users navigate the system effortlessly, organizing scanned documents by Page, Document, Cabinet, Disk, Library and Database. In networked environments, files may be shared between a server and client workstation, saving time and space while increasing filing productivity.