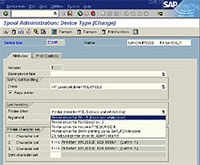 SAP is the leading supplier of Enterprise Resource Planning (ERP) software to the world's largest corporations. The nature of SAP implementations is such that a significant amount of information is viewed and printed in a structured reporting format. In order to utilize the extended finishing capabilities inherent in the imageRUNNER devices, a Device Type for the specified printer must be used.
Canon offers two Device Type solutions - the Standard SAP Device Types, and the Device Type Extension. Both solutions provide access to our imageRUNNER devices finishing capabilities, but the Extension offers a few additional features than those offered by the Standard Device Types.
With the Device Types, organizations running SAP will not only enjoy the high quality performance of Canon's imageRUNNER devices, but also the extended finishing features such as input tray, page orientation, number of prints/copies, duplex, paper size, staple, hole-punch and output bin selection.