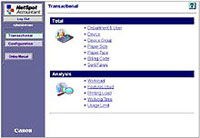 With NetSpot Accountant, organizations can track basic output-related costs and device utilization, thereby allowing them to gain better control of these costs and, when applicable, charge them back to the appropriate divisions or clients. By assigning costs to the printing, copying and faxing functions, users will not only be able to see who is using the devices (and how much, when, and for what functions), but they will also be able to quantify that usage. The activities can be tracked in a number of ways including by device, paper size, paper type, individual user, or department.

With its billing code capability, NetSpot Accountant enables users to proactively assign specific output costs to users, departments, project or clients. Additionally, by setting usage limits, office managers can limit output by department/user and even restrict output to color devices. Whether a corporate office, health care company, or educational entity, NetSpot Accountant is ideally suited for any organization interested in controlling their output costs.

NetSpot Accountant ships standard as server software capable of running on all versions of Windows NT, Windows 2000, or Windows XP operating systems. Since the software is web-based, users can access the relevant reporting and configuration operation through a standard web browser.