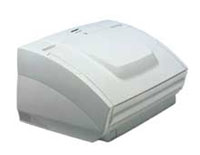 The DR-3060 is powerful, versatile, and reliable while being compact, simple, and economical. By offering Central Reprographic Department quality scanning at a departmental price, while increasing productivity, it represents the new standard in desktop scanning. In today's increasingly crowded workplace, the DR-3060 is environmentally friendly. Compact and small, the sleek profile belies its extraordinary powers. Blazing scanning speeds of up to 86 images per minute, and 131 "front and back" checks per minute, mean accelerated throughput and reduced operating costs. Multiple scanning modes simplify even complex jobs. Presorting, rescanning, and frequent paper jams have been virtually eliminated.
Features
Dual sensors allow for fast, efficient one-pass, two-sided scanning.
Multiple scanning modes, such as black-and-white, 256 level high-speed grayscale, simplex/duplex, and text and photo modes, simplify even complex jobs.
100-sheet Automatic Document Feeder - Ideal for batch scanning of mixed documents, the scanner adjusts automatically for different paper sizes in the same batch.
Built in Skew Correction automatically straightens misaligned documents.
Pre-Scan - Lets users adjust image quality for the entire batch while previewing updated first page.
User-Preference - Allows quick-start scanning from 20 preprogrammed settings.
Skip Blank Page - User-programmable function for automatic blank page detection and deletion.
Scan Panel - Pop-up virtual panel allows changes to be made during scanning.
ISIS® and TWAIN drivers included.
Optional Endorser and Carrying Cases available.
This scanner has been tested for compatibility with industry leading electronic document management systems. Click here for a complete list.