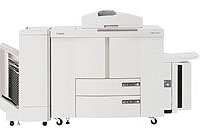 At 83 copies-per-minute, the NP 7850 is designed to meet the high-volume copying needs of departmental offices, central production departments and print-for-pay outlets, while at the same time delivering exceptional ease-of-use, value and convenience to meet the requirements of walk-up users in busy office environments.
The NP 7850 ships standard with a heavy-duty Recirculating Document Feeder that can handle up to 100 double-sided originals. Plus, its enormous 4-way, 6,100-sheet paper capacity minimizes paper reloading chores for long-run copy jobs, and can support up to 110 lb. Index Stock through each paper source. And, with a choice of two Stapler Sorter options, the NP 7850 offers considerable document finishing flexibility including multiposition stapling and 3-hole punched output.
The NP 7850 leverages Canon's best of breed in analog copying technology. Its reliability over millions of copies, productivity enhancing features and exceptional user-friendliness make the NP 7850 a perfect choice for businesses that need a high-volume copier.