Overview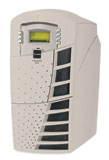 The ColorPASS-Z800 has been designed to meet the demands of the most discriminating graphics professionals. It has the power to quickly process large graphic files with a Pentium® 4 @ 2.0GHz processor, a 60GB Hard Drive and 256MB of RAM. With its two Ethernet connections, a 100Base-T connection to join conventional networks, and a gigabit connection to hook into the most advanced, high-speed networks, the ColorPASS-Z800 has the ability to easily connect to virtually any network.
The once optional Graphic Arts Feature Set ships standard with the ColorPASS-Z800, providing users with Spot-On® Color Matching, Auto Trapping, Soft Proofing and Hot Folders. Ideal for color-critical situations, the ColorPASS-Z800 works seamlessly with any CLC 1100 series device to offer a complete color imaging system that outputs unrivaled color.
Features
Built on a Windows XPE Platform, the ColorPASS-Z800 features Pentium 4® @2.0GHz processor, a 60GB Hard Drive, and 256 MB RAM, giving it the power to quickly process some of the largest graphic files.
Equipped with EFI® Job Monitor, the ColorPASS-Z800 gives users the ability to track the status of any job that is sent to an EFI-driven device and will alert users to errors that would prevent a job from printing.
With Command Workstation™ 4.1 standard, the ColorPass-Z800 allows users to easily navigate through its windows, instantly tracking, editing and merging jobs. Users can also preview PDF files and scale images to fit various paper sizes. Also available is the Command WorkStation LE 4.0, giving MAC users access to the software's most powerful features.
The ColorPASS-Z800 ships standard with ColorWise® 3, the color management software that lets users utilize ICC profiles and customize color curves.
The standard Graphic Arts Feature Set is ideal for users who require features like Spot-On® Color Matching to reproduce PANTONE® colors accurately, Auto Trapping to ensure proper registration, and Hot Folders to eliminate the time-consuming task of configuring print settings for multiple jobs.
With NetWise™ 3, the ColorPASS-Z800 can be easily integrated into your existing network, and thus can serve as the hub of your network printing system
When combined with the optional DocBuilder Pro™ 2.2, your CLC graphics-level device will connect effortlessly with Canon's Staple Sorter and High-capacity Stacker for advanced capabilities on high-volume projects.
The ColorPASS-Z800 supports Fiery® Remote Scan 4.x for advanced capabilities, such as scanning hard copies back to your desktop or server, or e-mailing scans to any user over the internet.