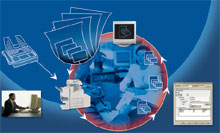 Rules implementing Sect.326 of the USA Patriot Act require financial institutions to collect and maintain records of the information relied upon to verify the identity of a customer when opening a new account. Canon CIVC (Customer Identity Verification & Compliance) is a solution that helps financial institutions comply with the Customer Identification Program records management more efficiently.
Canon CIVC may consist of Canon software and hardware devices that are easily configured to provide a seamless path for documents to flow from paper to database. The result is a flexible, affordable and easy to implement solution that combines distributed capture with document distribution and management, providing an efficient way to create and manage new-account CIP records.
Canon CIVC benefits:
Reduces the manual data entry required to create CIP records.
Reduces paper volume and manual paper handling activity in the new-account opening process.
Provides a seamless solution that can capture, in the branches, transport images via the network, index, and deposit them in a database in one step.
CIVC solution is simple to deploy and maintain, and can easily scale. Avoid software development or complex implementation projects.
Disclaimer: Please consult your professional advisor, as the information provided herein is a summary of significant issues, and may not address all issues in compliance with the USA Patriot Act.