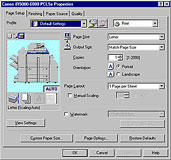 Printer drivers are important tools in the completion of daily office tasks for most end users. Those that are comprehensive in their capabilities, easy-to-use, interactive, and administrator friendly can make the difference between productive workplaces, and those that suffer with continual operating difficulties.

As the world's largest supplier of laser printing products, Canon understands the complexities of network printing and how to simplify the process of document creation. Canon offers a wide array of black-and-white office products ranging from laser printers, to networkable fax devices, to networked multifunction systems. All of these product offerings share a common printer driver platform, ensuring that end users have a consistent interface and experience when printing to a Canon device.

Canon has designed our printer driver offerings to be extremely intuitive, graphically depicting the target print device, as well as interactive, accurately communicating printer configuration information, paper supply, and paper types to users' desktops across the network. For administrators, Canon offers flexible installation options and eliminates the need to configure printer options at every desktop by automating this process over the network.

Whether customer requirements dictate printing from Windows or Macintosh desktops, PostScript or PCL languages, or printing from specialized applications, Canon's comprehensive printer drivers can handle the task, assisting customers in leveraging the full benefits of their system investment.