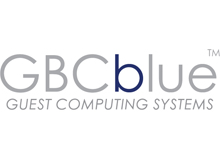 The COPYblue MEAP application transforms an imageRUNNER MFD into a self-service kiosk for walk-up copy, fax and scanning by acting as an interface to access a back-end transaction server managed by GBCblue. Retail stores, libraries, schools, hotels, and hospitality businesses have deployed the COPYblue system throughout their locations, providing their customers with unattended, around-the-clock access to such fundamental business services as faxing, copying, and scanning, which can all be accomplished with the simple swipe of a credit or pre-paid debit card.

In addition to providing business center services, retail stores, libraries, schools, hotels, and hospitality businesses are provided with an opportunity to generate additional revenue from copying, scanning and faxing. This helps distinguish COPYblue from other business center services. COPYblue offers a valuable service to all types of public environments and is able to further expand the usability and functionality of the imageRUNNER MFDs.

The COPYblue solution focuses on showcasing the technical savvy of GBCblue and Canon helping push forward initiatives, and always producing results. The result is an entirely new class of service that is uniquely suited to the needs of guests and customers.