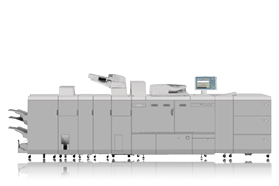 The imagePRESS 1110S is a digital press designed with the high-end image quality and reliability expected from a leader in imaging technology but at a lower cost of entry associated with near-lithographic printing devices. The 1110S has the same imaging technologies as the imagePRESS 1135P, 1125P and the 1110P. Technologies such as the twin sleeve will produce full solids without mottling. In addition, with the advent of the image transfer belt, the 1110S transfers images and text to the media just like a commercial printing press, producing incredible quality.
The 1110S comes standard with a 2,000 sheet drawer that has feeding technologies which includes belt suction feeding to feed paper into the marking engine, enhanced air assist and air separation technologies. Lastly, there are a variety of finishing options available including a post process inserter, folding unit and finishers.
The imagePRESS 1110S is a perfect fit for a high-end office environment looking to upgrade image quality, printing capacity and finishing capabilities.