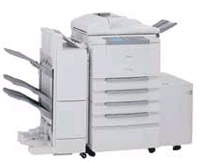 The imageRUNNER 400S is 40 page-per-minute standalone digital copier, and is fully upgradeable to include network printing, Super G3 faxing and scanning functionality. What's more, the imageRUNNER 400S features output resolution of 1200 x 600 dpi at 256 levels of grayscale, standard built-in duplexing for paper sizes ranging from Statement to Ledger, and a standard on-line paper capacity of 1,050 sheets via two 500-sheet Paper Cassettes and a 50-sheet Stack Bypass. For environments requiring higher paper capacities, optional 1,000-sheet and 2,000-sheet cassette feeding units are available, along with a 3,500-sheet Side Paper Deck, bringing the total on-line paper capacity up to 5,550 sheets.

As a standalone digital copier with a completely modular upgrade path, the imageRUNNER 400S can easily be modified for new document management needs should they change in the future.

Features

The imageRUNNER 400S features a 40 page-per-minute copy and print speed and a duty cycle of up to 150,000 impressions per month. The imageRUNNER 400S is a stand-alone digital copier that can be easily modified to incorporate Super G3 faxing, network printing and document scanning by adding the appropriate expansion board. The imageRUNNER 400S comes with 32MB of Image Server Memory, upgradeable to 96MB. The Image Server supports a host of functions including Scan-Once-Print-Many, Auto Image Orientation, Booklet Making and Confidential User Mailboxes. The imageRUNNER 400S ships standard with trayless duplexing support. Using this design, the imageRUNNER 400S is not required to stack duplexed pages in a separate cassette, and as a result, can deliver two-sided output at the rated speed of the print engine.

The imageRUNNER 400S comes with a standard paper capacity of 1,050 sheets, which can be upgraded to a maximum of 5,550 sheets to accommodate paper-intensive operations by adding the available paper supply options.

Both optional network printer boards integrate seamlessly into 10/100 Ethernet or Token Ring environments, and ship standard with 32MB of industry-standard memory and a 4.2GB hard disk drive used for spooling jobs, storing ripped images and handling fonts. One offers support for Adobe PostScript 3 and PCL 5e printing, while the other offers support for PCL 5e only.

There are two document feeder options. The feeders are capable of holding up to 50 and 30 originals respectively, and will support paper sizes from Statement to 11" x 17". With their ability to handle mixed sized originals, the Automatic Document Feeders will provide you with significant document feeding flexibility.

With three optional finishers that provide capabilities ranging from basic collated and stapled output to multipage, saddle-stitched brochures, the imageRUNNER 400S provides the greatest flexibility and quality available in producing finished sets of documents.