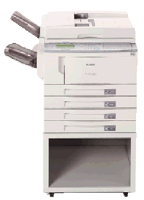 The imageCLASS 2250 is a 16-ppm digital imaging system with a standard 50-sheet Automatic Document Feeder, 14 MB of standard Image Server memory and a Super G3 fax board for high-speed 33.6 Kbps fax transmission. The unit comes with one 250-sheet user-adjustable paper cassette capable of supporting paper sizes up to 11" x 17", and can be upgraded to a maximum paper capacity of 1,100 sheets via a 1 or 3-drawer Cassette Feeding Module.

The MultiSpot Printer Option allows users to print directly from any computer on the network via a 10 Base-T Ethernet connection, or from non-networked computers via a parallel port. Network PC faxing and network scanning capabilities can also be added. The modular design, easy expansion, rich feature set, and configuration flexibility of the imageCLASS 2250 will provide your workgroups with the tools they need to thrive in the constantly changing work environment.

Features



The imageCLASS 2250 features 16 page-per-minute digital copying and a duty cycle of up to 50,000 impressions per month.

The standard Automatic Document Feeder supports up to 50 originals and is capable of supporting document sizes from letter to 11" x 17".

The imageCLASS 2250 comes standard with a Super G3 Fax Board capable of transmitting and receiving G3 type faxes at up to 33.6 Kbps and is equipped to handle the most extensive fax demands. With 9MB of standard fax memory, it will store up to 576 pages (based on ITU-T No. 1 Chart-Standard Mode) for transmitting and receiving documents up to 11" x 17".

The imageCLASS 2250 comes with one 250-sheet user-adjustable cassette capable of handling from letter-sized paper up to 11" x 17". For customers requiring additional paper capacity, there are two optional cassette feeding modules. An additional 250-sheet cassette brings the total paper capacity to 600 sheets, and a three-tray cassette feeding module brings the total paper capacity to 1,100 sheets.

The 100-sheet Stack Bypass expands paper supply, and is ideal for copying and printing onto letterhead and other media. It supports varying paper sizes from 4" x 6" to 11" x 17".

The imageCLASS 2250 comes with 14MB of Image Server Memory and supports features such as Scan-Once-Print-Many.

The imageCLASS 2250 features a user-replaceable cartridge that combines both the toner and the drum into one easy-to-replace unit.

The MultiSpot Network Printer Option adds printing and network connectivity capabilities to the imageCLASS 2250. It offers either a parallel port or a 10BaseT Ethernet connection, and supports PCL 5e and PCL 6 printer languages.

By adding the MultiSpot Document Distribution System software to the imageCLASS 2250, users can support additional functionality including network scanning, network PC faxing and inbound fax routing.

The optional Shift Tray lets end users offset output while copying multiple sets.