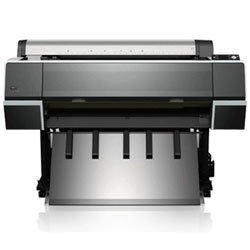 The Epson Stylus Pro 9700 incorporates the latest achievements in high-performance ink jet printing. By combining the extreme precision of a MicroPiezo TFP™ print head, with the extraordinary performance of UltraChrome® Vivid Magenta Ink, the newest generation of Epson Stylus Pro printers represent a level of printing technology unprecedented within the Engineering Scientific and Display Signage markets.
HIGH-PRECISION TEN-CHANNEL MICROPIEZO® TFP™ PRINT HEAD
Thin Film Piezo (TFP) print head design capable of extreme dot placement accuracy
One-inch wide, high performance print head with 720 nozzles per color
Extreme line accuracy of +/- 0.1% at line weights as low as 28 micrometers
Auto-switching dual-black ink technologies – Photo and Matte Black
Low vibration meniscus control for highly accurate dot shape and placement
All-new ink repelling coating for dramatically reduce nozzle clogging
Produces variable-sized droplets as small as 3.5 picoliters to greatly decrease print times while optimizing photographic quality
ACCUPHOTO HD SCREENING
Advanced four-color screening algorithm resulting in prints with superior color and clarity
Maximum resolution of 1440 x 1440 dpi for incredibly sharp text and line art
Produces extremely fine blends and photographic transitions
Extremely accurate highlight-to-shadow details
When combined with the precise dot placement accuracy of the MicroPiezo TFP print head, overall photographic and vector-based print quality is dramatically improved
PRECISECOLOR™ MANUFACTURING
To ensure consistent printing between multiple Stylus Pro printers of the same model the manufacturing process has been refined to include colorimetric calibration. This process evaluates and adjusts each printer's performance at the manufacturing stage, ensuring consistent color output from printer to printer and print to print.