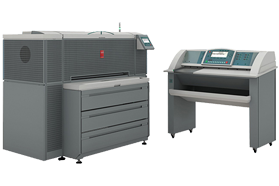 High-speed 36" wide format scanner provides commercial grade quality with virtually no manual adjustments. A breakthrough in speed and productivity.
High productivity in a busy production environment. The scanning speed of the hardware and the combination of software enablers virtually eliminate post-processing. Océ Image Logic® ensures clean, crisp scan quality even from the poorest quality originals. And Océ Scan Logic® manages the resulting scanned images in terms of file formats and destinations.
Using Océ Scan Logic®, you can scan to 10 different programmable destinations, scan to the worldwide web using FTP, scan to a network directory for central archiving and document control, or scan to the controller of the Océ PlotWave 900 printer for copying and printing applications. This eliminates multiple manual steps at multiple desktops to manage the scanned information.
Output digital files in any one of these universally standard file formats: PDF, PDF multipage, PDF/A, PDF/A multipage, TIFF, TIFF multipage or CALS. This ensures that your scanned images can be stored and printed in virtually any CAD application program, within virtually any network environment.
Most productive high volume monochrome scanner on the market
Scan to Multiple Destinations
Scan Directly to PDF