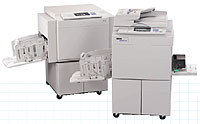 The 3450DNP is the perfect solution for long print runs. It provides exceptional image quality, superior registration and the ability to print on a wide variety of paper types and sizes.
At its top speed of 120 prints per minute, the 3450DNP can complete a 1,000 print run in less than 10 minutes.
Paper capacity is 1,000 sheets. A built-in Job Separator makes it easy to separate multiple print jobs.
Print using paper sizes from 2.8" x 5.8" to 12" x 18" at outstanding 600 dpi resolution.
Digital features include: wide and versatile zoom ranges, directional magnification, multi-copy modes, a variety of standard and optional editing modes, and a wide selection of ink colors that can be used one color at a time.
A choice of imaging modes for enhanced output quality.
Optional Controller connects to PC and Macintosh computers and networks. You can control print runs and print directly from the computer or network using virtually any publishing software.
Optional TC-II Twin Color Printer produces two-color output at up to 120 pages per minute.