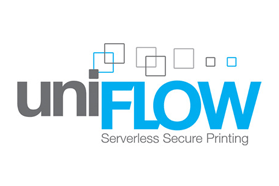 uniFLOW Serverless Secure Printing enhances the built-in MFP secure print functionality by bringing "MyPrint Anywhere" functionality and proximity card login to customers who do not have a print server. This not only increases productivity in the users by allowing them to choose which device to release their jobs to, but also reduces waste by preventing unwanted print jobs being printed.
The user prints their job using the normal Canon printer driver and can then walk to any of the Canon MFPs to release the job. Serverless Secure Printing allows up to fifty users and up to five Canon MFPs to use the MyPrint Anywhere functionality. The user can identify themselves with a proximity card, username and password or PIN number, all without the IT burden of a central server.
Built for the future
If the organization grows to more than fifty users or five Canon MFPs, Serverless Secure Print can easily be upgraded to the full uniFLOW system, giving the organization access to further functionality such as reporting, job routing and document capture.