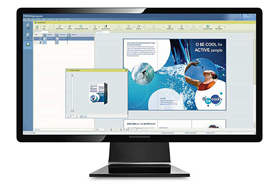 Perfecting Preparation

PRISMAprepare all-in-one job preparation solution helps accelerate document make-ready from composition through production. Whether you're collecting and cleaning up pages from digital or hard copy sources, enhancing documents, assigning media attributes, creating inserts or optimizing image color brightness and saturation, PRISMAprepare streamlines your prepress workflow from start to finish.

Seven make-ready capabilities:
Composition Make-Ready
Fast and easy document preparation, including integrated variable data print preparation


Content Make-Ready
Easily adjust text, images and more


Image Make-Ready
Optimize photos or scans


Color Make-Ready
Built-in tools give you the control to adjust and change colors as needed


Layout Make-Ready
Refine layout-including finishing options-and visualize changes in true WYSIWYG


Media Make-Ready
Quickly select media for every page of every job


Production Make-Ready
Optimize settings for the speed and efficiency of your total production process - every time!