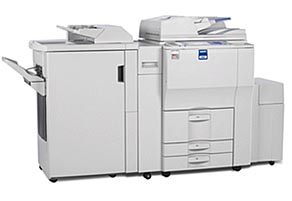 The Savin 8080 is fast, secure, and state-of-the-art in every important function. It is loaded with everything you need to ensure your document workflow remains on the cutting edge of technology.

GENERAL FEATURES
Available in 2 different configurations
8½" WVGA touch panel display
80 GB HDD/ 256 MB RAM standard
Simplified Display button for basic users
60 second warm-up time from power off
Scan Once, Print Many with true 1,200 x 1,200 dpi resolution
8,300-sheet maximum paper capacity from up to 5 sources
100-sheet, one-pass duplexing automatic document feeder standard
Document Server technology for online storage and print-on-demand capability
Thumbnail view and file preview for documents stored on document server
Windows Authentication prevents unauthorized access to system
Login and logout button for authentication
Professional finishing options including GBC StreamPunch III, BK5010 Production Booklet Maker/Trimmer/Book Folder, Booklet Finisher, 100-sheet Staple Finisher, 50-sheet Staple Finisher, Z-fold Unit, 2/3 Hole Punch
Optional Cover Interposer allows covers or special pages to be inserted anywhere within your documents
DataOverwrite Security option makes any effort to access and reconstruct residential data virtually impossible
Compatible with Ricoh's Embedded Software Architecture, a Java (J2ME) compatible software development platform.
COPIER FEATURES
Most main features accessible from initial screen on touch panel display
Ability to program up to 8 jobs into memory while initial job is running
Professional finishing capabilities
Copy speed of 80 ppm
PRINTER FEATURES (OPTIONAL)
RPCS/PCL5e/PCL6 standard
True 1,200 x 1,200 dpi resolution
Sample Print, Locked Print, Hold Print, and Stored Print
Optional Adobe® PostScript 3 for advanced applications, Mac OS, and PDF Direct Print
Optional Interposer allows covers or special pages to be inserted
9-bin Addressable Mailbox Option
Professional finishing capabilities
Print speed of 80 ppm
SCANNER FEATURES (OPTIONAL)
One-pass duplex scanner scans both sides of document simultaneously
600 dpi optical resolution (1,200 dpi with TWAIN scanning)
Embedded scan to e-mail with LDAP support (no additional software or delivery server required)
Embedded scan to folder via SMB, FTP, and NCP (no additional software or delivery server required)
Preview Before Transmission
PDF encryption ensures that only your intended recipients can read your scanned documents
75 sides per minute scan speed (Scan-to-Email, Scan-to-Folder)
FACSIMILE FEATURES (OPTIONAL)
The ability to program up to 2,000 frequently dialed fax numbers, which minimizes the potential for misdialed numbers
Increased document-feeding capacities and scanning speeds over traditional fax machines, plus the ability to scan duplexed originals as large as 11" x 17" in a single operation
The ability to designate a tray as the output destination for inbound faxes, keeping them separate from copied or printed output
The ability to send and receive faxes right from the desktop (LAN faxing) (requires scan/print capability, SP model or SP Kit)
Simplified search and retrieval of stored faxes via Web Image Monitor or DeskTopBinder for convenient reprinting if required (requires scan/print capability)
A second and even a third Super G3 fax line (via optional G3 Interface Unit Type 7500) to minimize busy signals and wait times in fax-intensive environments
Standard JBIG Compression, which reduces transmission times to as little as 2 seconds per page to further minimize fax costs