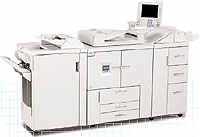 High Speed, High Quality Production Solutions.
Engineered to meet the rigorous requirements of high-volume production environments--including Central Reproduction Departments, Facilities Management and Print-for-Pay--the Savin 4090 and 40105 are more than up to the challenge.
The 4090/40105 excel at producing virtually any job in the high-volume production environment--from manuals to reports to presentations and more. And, with the 4090/40105, time is always on your side: 90 (4090) and 105 (40105) pages per minute mean you'll never worry about tight deadlines again.
Highlights
15,000-page maximum storage capacity
Scan up to 100 pages at 80 scans per minute
Advanced Print on Demand Functionality
Automatic merging of scanned hardcopy and electronic files
Secured printing environment
Flexible paper handling capabilities
Control panel enables quick access to all of the 4090/40105's advanced capabilities
Options
Variety of network connectivity choices
Connect Copy option dramatically enhances output productivity
Finishing options project professional image with sophisticated digital technology
Production Booklet Making option