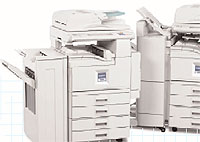 Excellent image quality and a host of productive features.
The 4035/4035sp is a complete digital imaging system, with copier, fax, laser print and scan capabilities.
-4035 comes standard with copy. Fax/LAN-Fax, scanner and printer modules optional.
-4035sp comes standard with copy, print and scan. Fax/LAN-Fax module optional.
Features
35 copies per minute, first copy time of 4.3 seconds, and 15 second warm-up time.
Standard paper capacity is 1,000 sheets plus a 50-sheet bypass. With the optional large capacity tray and the optional paper bank unit, total capacity is 3,550 sheets.
Standard 64 MB RAM (192 MB RAM for the 4035sp) and 20.0 GB HDD for storage of up to 3,000 files, utilizing "document server" technology.
Digital advantages - vast 25% to 400% zoom range, Center/Border Erase, Negative/Positive, Combine Mode and more.
Optional fax module offers a high speed 33.6 Kbps modem, less than 1-second scanning, 3-second transmission and one hour memory back-up. Up to 3 fax lines can be connected.
Inbound faxes can be stored and viewed via a web browser or DeskTopBinder Client software.
Scanner/printer module (standard on the 4035sp) offers 35 laser prints per minute at 600 dpi, and network scanning from 100 to 600 dpi. Print finishing functions are available at the desktop. The scan to e-mail feature provides address book management of up to 2,000 e-mail addresses and manual e-mail input.