| | |
| --- | --- |
| SmartDeviceMonitor | (SAVIN) |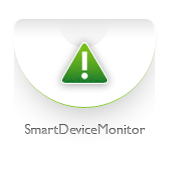 Product Overview
SmartDeviceMonitor software equips users to print successfully the first time, in less time, and reduces administrative resources needed to support printing. The software displays the status of connected printers, Multifunctional products, facsimiles, and scanners letting you know which devices are available, how they're configured, toner/paper levels and other useful information right from a desktop computer.
ABOUT SMARTDEVICEMONITOR
SmartDeviceMonitor is a network printing utility software suite consisting of two parts - a module for Users sending print jobs, and a module for Network Administrators supporting printing
Used by IT Managers, Helpdesk and Printer Support personnel seeking to simplify installation, monitoring and management of Multifunctional products, scanners and other devices
Enables users sending print jobs to eliminate unsuccessful printing
Optional Accounting Report Package allows Administrators to monitor all print, copy, scan, and fax activity for Ricoh devices and associate costs for chargebacks
MAJOR APPLICATIONS
Improve the printing experience for all types of users sending print jobs to network printers
Assist IT Managers, Helpdesk and Printer Support personnel to install, configure, monitor and troubleshoot devices on the network
Create detailed usage reports that associate costs for specific users or groups for chargeback with the optional Accounting Report package
BENEFITS TO ADMINISTRATORS/SUPPORT PERSONNEL
Lower device administration burdens
Streamline the support of printing at your company
Control device access and track user activity with the optional Accounting Report Package to help reduce total cost of ownership
BENEFITS TO USERS
Save steps - Even if you can't see the printer physically, SmartDeviceMonitor can…so you can know, before taking that walk to the printer, if toner is low, if the printer is off-line, or just busy with other print jobs
Reduce frustration - If a printer is off-line, the software can automatically recover and re-direct the print job to a different device or let the user select another printer to successfully complete the job
USING SMARTDEVICEMONITOR
Administrators can see and modify how each connected device is configured, monitor paper/toner levels, error conditions, control user privileges and view a detailed log of all devices accessed by each user or department
Users monitor the availability and status of devices, as well as the progress of their own print jobs using an icon in the taskbar of their desktop PC
The optional Accounting report package provides Administrators the ability to track and create chargeback reports by user or group for all print, copy, scan and fax activities
IMPLEMENTING THIS SOLUTION
Installs on a PC
The Administrative module provides automated installation of networked output devices including Network Interface Card configuration
Optional Accounting Report Package is a separate Administrator application targeting small to mid-size business
Printing devices can be grouped logically in the Admin module, for example by department or workgroup, to simplify device management
Ability to print directly via TCP/IP eliminating the need for a print server
SPECIFICATIONS
No information currently available.