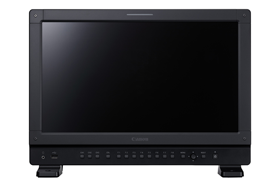 The Canon DP-V1710 UHD 4K Reference Display is a compact and rugged display. It supports UHD (3840 X 2160) and 4K signals for use in broadcast and cinema workflows where high mobility is needed.

The innovative Canon-designed white LED backlight with its IPS panel facilitates a wide-viewing angle, and the anti-glare coating helps improve on-set visibility. It also features a specially developed image-processing engine to help produce uniform brightness. The DP-V1710 utilizes the same high image quality technology found in Canon's other reference displays so you can rely on a consistent look throughout the entire workflow, using any combination from the Canon Reference Display line.

The DP-V1710 works with a variety of workflows, including a link up with ARRI ALEXA SXT camera systems for cinema productions, while its size and full feature set help make it a superb choice for broadcast productions both on set and in broadcast vans and studios.

Supporting broadcast/digital cinema EOTFs, as well as Canon's own proprietary Canon Log/2/3, and the latest HDR EOTFs, Hybrid Log-Gamma (ITU-R BT.2100) and SMPTE ST 2084, the DP-V1710 is also packed with an abundant selection of functions for supporting HDR production.

Featuring an aluminum frame design for rigidity and strength, the reference display weighs less than 18 pounds. Importantly, its EIA 19" rack mount compatibility (7U) means it can replace existing FHD displays and is considerably easier to install than other larger 4K displays. It can be powered by 100-240V AC or 12VDC for additional flexibility.