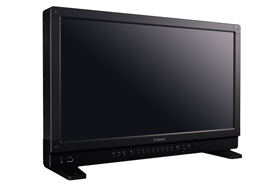 The Canon DP-V2410 24-inch 4K Reference Display is an exceptionally versatile display, designed to be used throughout the production and postproduction process. Equally at home on-set, in a mastering suite/mobile truck or a quality control setting, its 4096X2160 wide viewing angle IPS Panel; DCI compliant 2000:1 contrast ratio and 17:9 aspect ratio meets all cinema and television standards including Broadcast UHD standard ITU-R BT.2020.

The innovative Canon-designed RGB LED backlight with its 10bit IPS panel insures a wide-viewing angle, and the anti-glare coating improves on-set visibility. It also features a specially developed image-processing engine to help produce uniform brightness. The DP-V2410 utilizes the same high image quality technology found in the DP-V3010 display and Canon's other Reference Displays so you can rely on a consistent look throughout the entire workflow, using any combination from the Canon Display family.

Supporting Cinema EOS System "Canon Log 3" and "Canon Log 3 (HDR)" gamma settings as well as "Hybrid Log-Gamma" the DP-V2410 can display high contrast and rich-mid tones of HDR (High Dynamic Range) content ordinary not visible to SDR (Standard Dynamic Range). Convenient on-screen display functions provide a range of shooting assistance tools, including Cinema EOS camera information, a waveform monitor, a vector scope, audio-level metering, and more.

As post processes move on-set or near-set, the DP-V2410 offers the ability to internally Debayer the Canon Cinema EOS 4K RAW signal output from the EOS C500 and EOS C300 Mk II cameras for direct display while looping this signal to an external recorder, providing a flexible companion to your other Canon equipment and allowing you to build a simple but sophisticated on-set Canon workflow. Importantly, the DP-V2410 also allows you to verify the looks of the ALEXA SXT cameras made by ARRI as well supporting a linkup to ARRI's image quality settings and other features such as metadata and Area Markers." Support for the industry standard ACES 1.0 color management, further insures that this is a serious production tool now and into the future.

Weighing just 26.4 lbs. and featuring a built-in easy set-up transport handle, integrated control panel, solid metal frame and inputs for 24V DC battery power or 100-240V AC, the DP-V2410 4K Reference Display offers high portability and multi-purpose use, whether for on-set live "video village" monitoring; color grading, for viewing dailies, or for use in post suites or mobile 4K UHD broadcast production-control rooms. For more information about the DP-V2410 Reference Display, contact us at display@cusa.canon.com.