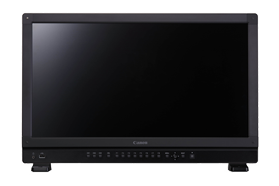 The Canon DP-V2420 4K Reference Display is Canon's flagship 24" model and can satisfy the High Luminance performance required for HDR workflows. Sharing many of the outstanding features of the DP-V2410 4K Reference Display, the DP-V2420 adds additional versatility and functionality. It qualifies as a Dolby Vision mastering monitor (supporting SMPTE ST 2084's gamma curve) as well as the proposed HLG (Hybrid Log-Gamma) broadcast HDR standards. This display can be ideal for maximum flexibility during any stage of the production and post-production process, and essential for monitoring HDR workflows.

The innovative Canon-designed RGB LED backlight with its 10-bit IPS panel insures a wide-viewing angle, and the anti-glare coating helps improve on-set visibility. It also features a specially developed image-processing engine to help produce uniform brightness. The DP-V2420 utilizes the same high image quality technology found in Canon's other reference displays so you can rely on a consistent look throughout the entire workflow, using any combination from the Canon Display line.

As post processes move on-set or near-set, the DP-V2420 works with a variety of workflows, supporting the ability to internally debayer the Canon Cinema EOS 4K RAW signal output from the Cinema EOS C500 and Cinema EOS C300 Mark II cameras for direct display while looping this signal to an external recorder. This provides a flexible companion to your other Canon equipment and allows you to build a simple but sophisticated on-set Canon workflow. Importantly, the DP-V2420 also allows you to verify the looks of the ALEXA SXT cameras made by ARRI as well supporting a linkup to ARRI's image quality settings and other features such as metadata and area markers.

The DP-V2420 features an aluminum frame design, offering rigidity and strength. Thoughtful ergonomic design including an anti-tip stand, function buttons on the front of the main unit, and built-in easy set-up transport handles, means that the DP-V2420 allows for portability and multi-purpose use, whether for on-set live "video village" monitoring; color grading, for viewing dailies, or for use in post suites or mobile 4K broadcast production-control rooms.

For more information about the DP-V2420 4K Reference Display, contact us at display@cusa.canon.com.