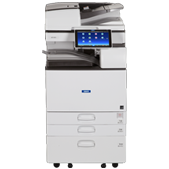 Product Overview
Finish everyday tasks with speed and ease
Prints up to 60 ppm, copy, scan, optional fax
1200 x 1200 dpi max print resolution
Paper capacity up to 4,700 pages
Scan/copy with the high-speed SPDF, impress with multiple finishing options
GENERAL FEATURES
Work quickly, look professional
Combine high-speed performance and end-to-end document production with the MP 6055 Black and White Laser Multifunction Printer (MFP). Use customized automated workflows, shortcuts, mobile convenience, optional advanced finishing and more to perform ordinary tasks with extraordinary speed and precision. Add paper sources to expand capacity to 4,700 sheets and complete longer production runs in less time.
Share messages instantly
Print and copy black-and-white output at up to 60 pages per minute (ppm) and a robust 2 GB of RAM processing speed. Use the Single Pass Document Feeder (SPDF) to scan one- or two-sided originals at up to 180 images per minute (ipm) and share digital files instantly with Scan-to-Email, FTP, PDF, URL or even optional paperless faxing.
Find your touch with the right information
With our Workstyle Innovation Technology, you can perform tasks instantly on the 10.1" Smart Operation Panel. Just navigate the touchscreen user interface of your choice and tap into a wealth of print, copy, scan or fax capabilities for precise control. With an embedded web browser, you can also access information from websites or cloud applications, and print them at the device or save to storage media.
Use apps to expand your reach
Create automated workflow shortcuts by downloading apps from the Application Site. Use the ID Card Scan & Copy app to scan two-sided originals onto one side of a sheet of paper. Use the How-to Videos app for step-by-step tutorials. Use the Conference Concierge app to simplify how you create documents with easy-to-follow layout instructions.
Give it a professional look
Impress audiences while eliminating outsourcing costs with optional stapling, hole punching and booklet finishing for up to 11" x 17" sizes. Use the internal, space-saving Multi-Fold Unit to automate different types of folding jobs. Choose the 1,000-Sheet Hybrid Staple + Stapleless Finisher for automated staple-free finishing on documents with five or fewer pages — making it ideal for schools, hospitals and offices where safety and recycling are especially important.
Simplify complex projects
Download widgets, check settings and more from the main screen. Add third-party software — including Streamline NX®, GlobalScan™ NX or Nuance® AutoStore® — to reduce manual repetitive tasks. Use @Remote to automate meter reads and expedite proactive maintenance calls. Access up to 3,000 files on the Document Server for on-demand printing. Find PDF files with a keyword search when you add optional Optical Character Recognition (OCR) scanning.
Work where you are
Use your smartphone or tablet to download the Smart Device Connector app, so you can grab information from Dropbox™, Office365™ and other cloud applications using optional Integrated Cloud Environment and print it at the MFP via the Google Cloud Print app. You can also print via AirPrint®. Simply connect via the Near Field Communication (NFC) tag on the Smart Operation Panel to authenticate. You can also scan originals right to your phone and take them with you.
Secure safe delivery
With User Authentication, you can track activity and users, set print quotas and hold jobs at the device for safekeeping. Add optional Device Manager NX Accounting software to issue chargebacks to individuals and workgroups. Reduce risks with automatic encryption and latent data overwriting tools.
Do your part and save
The MP 6055 is ENERGY STAR® certified, meets EPEAT® Gold criteria and offers Typical Electricity Consumption value of 2.6 kWh/week. For even greater savings program the MFP to power down automatically when you're out of the office and set duplex printing as the default to cut paper costs.
GENERAL SPECIFICATIONS