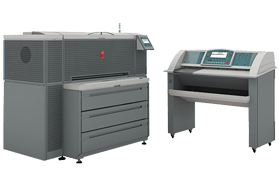 Organizations that rely on large format prints demand fast turnaround and efficiency. The Océ PlotWave 900 is the most reliable and productive black and white wide format printing system available today to meet these needs.

Best In Class Productivity
Designed for the high speed, high volume technical drawing environment, the Océ PlotWave 900 printing system has the speed, reliability and flexibility to meet your productivity needs. The cost-effective design gives you direct earning power, while Océ Copy Press technology offers low electrical power consumption and low heat emission levels. Plus, you get brilliant image quality to satisfy the most demanding customers, with smart operational time savers that make it easier than ever for your operator to keep the system running smoothly.

Copy Press Technology
Investing in quality pays off. Every year millions of dollars are lost in the architectural, engineering and construction industries due to misinterpreted drawings from poor-quality reproductions. The Océ PlotWave 900 large format printer delivers exceptional reproduction quality, thanks to 600 dpi print quality, advanced image processing and Océ Copy Press technology.

Direct Earning Power
The Océ PlotWave 900 printing system was built to run in high-volume and high-stress environments. Hard-wearing parts have been designed to last for many years. This plotter system is a safe long-term investment. Because the more you print, the faster you will earn back your investment.