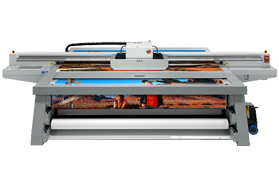 Standard size production, impressive productivity

Best-selling Large Format UV flatbed printer family in the world
Oce Arizona Large Format UV flatbed printers are all based on an Oce-developed platform that combines a true flatbed printer design and an optional separate, dedicated roll-to-roll capability.
Exceptional image quality on rigid and flexible media
Oce Arizona Series UV flatbed printers are quite simply a technology disruption: UV curable flatbed and roll-to-roll inkjet printers that deliver exceptional image quality to take display graphics to the next level. Use them to add new services by printing wide format photo-quality images on virtually any media imaginable. Take on work that was never before possible with lesser quality wide format printing systems. Oce Arizona Series flatbed printers give you endless opportunities to increase your display graphics revenue.
Meet nearly any application need
If a job can be printed digitally, it most likely can be produced on an Oce Arizona Series UV large format flatbed printer. With the ability to print on a wide variety of media and objects, you can capture revenue from applications ranging from standard sign and display (POP, retail signage, backlit signs) to specialty and industrial applications where the decorated substrate is not meant primarily for display purposes (e.g. package prototyping, short-run packaging, membrane switch overlays, wallpaper and interior decoration, and consumer product decoration).
Highly acclaimed series
All Oce Arizona UV flatbed printers share the same award-winning image quality and robust architecture, offering the Oce values of quality, reliability, productivity and user-friendliness. In all, the Oce Arizona Series have won over 40 industry awards to date from organizations throughout the world. These awards validate the quality and innovation built into every Oce large format printing system