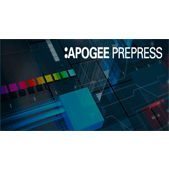 Canon has partnered with Agfa to develop integrations between Canon and Océ sheetfed digital production presses and its Agfa :Apogee prepress workflow solution to enable hybrid workflows for digital and traditional presses. These hybrid workflows help customers realize greater efficiency, faster turnaround times, and more flexible job management.

Agfa :Apogee Prepress with DigitalPrint Link enables Agfa users to integrate a Canon or Océ sheetfed digital press into their existing Agfa workflow creating a hybrid environment. This allows users to choose the press technology at any stage in the workflow.
Unified Prepress Workflow Solution
Supervise offset printing processes and automated on-demand print jobs on digital presses at the same time. :Apogee DigitalPrint Link lets you combine both processes in one streamlined workflow. This unified solution adds consistency and integrity to your printing results.
Automated Integration of Digital Presses
The JDF/JMF standard allows automated integration of the digital presses in the production process. Not only can the files sent to the digital press be rendered and imposed by the prepress department, you can easily add instructions like customer data, single/double sided, paper type/size, screening and finishing information.

:Apogee Prepress v10 is the latest version of Agfa's award-winning automated PDF workflow. A true end-to-end solution, :Apogee can handle Preflight, Imposition, Color and Quality Management, Rendering and Output to CTP, Proofers, Digital Presses and Wide-Format printers.