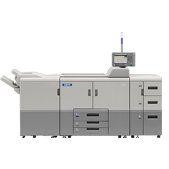 Product Overview
Emphasize the flow in workflow
Print up to 110 pages per minute
Deliver up to 1200 x 4800 dpi resolution
Produce up to one million impressions monthly
Capture, transform and deliver fast, accurate information
GENERAL FEATURES
Take a leap forward in productivity
The right device can help you quickly capture, print and share information with the people who need it. Count on the Savin Pro 8110e black-and-white printer to help you confidently accept print-on-demand projects, and impress customers with dazzling 1200 x 4800 dpi quality, and print speeds of up to 110 pages per minute (ppm).You'll reduce downtime with the TCRU program, easily print checks for financial services customers with MICR configuration, and manage multiple jobs with the optional EFI Fiery® controller.
Be known for first-class quality
Grab and keep customers' attention with communications that stand out. Our Vertical Cavity Surface Emitting Laser (VCSEL) technology uses 40 laser beams to replicate images and text up to 1200 x 4800 dpi. In addition, the new pulverized toner enhances image quality by providing smooth solids and halftones.
Become a media maven
The Savin Pro 8110e lets you be creative in choosing the right paper to target diverse audiences. The optional RT5100 LCIT uses vacuum technology to accurately feed a wide variety of media types and weights so you can print on media up to 350 gsm, and use textured, coated or specialty papers in sizes up to 13" x 19.2". And with the magnetic ink character recognition (MICR) option, you can produce high-speed, high-quality checks, image replacement documents (IRD and CRD) and other materials that require MICR printing.
Simplify print tasks
Every minute counts and the more setup time you can save, the better off you'll be. The Pro 8110e lets you automate routine tasks and bypass unnecessary steps. The full-color control panel presents large, easy-to-understand icons and preconfigured print settings. You can also preview thumbnail images before you print so you won't waste time, energy or paper.
Promote accuracy from beginning to end
With the Pro 8110e, you can accept data from mainframes and count on genuine Intelligent Printer Data Stream™ (IPDS™) to accurately keep track of every page. If there is an error, IPDS recovers and completes jobs automatically — saving you time and money.
Make paper handling virtually effortless
When equipped with optional large capacity trays, the Pro 8110e offers up to 9 paper pick points and 12,650 sheets of paper available. Additionally, our unique paper library lets you change paper settings with a touch on the operation panel. Any paper profile you select contains the appropriate machine settings, so you can proceed seamlessly.
Worry less, finish more
One manual error can mess up your schedule and cost you a lot of money. Instead of worrying about mistakes, sail through jobs with automatic stapling, hole punching, saddle stitching, decurling, cover insertion and more. Turn out professional-looking booklets, reports, brochures, direct mail and other communications — all inline and hands free.
Connect third-party finishing equipment
With the optional interface box, you can move information through your shop faster than ever. We can configure your Pro 8110e to connect to high-speed industrial equipment from C.P. Bourg and others. With inline finishing, you're "wired" for speed and throughput.