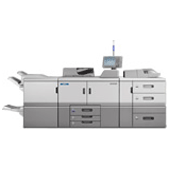 Product Overview
Deliver Unprecedented Image Quality
Print up to 95 pages per minute
Produce duplex jobs with precise registration
Enjoy unmatched ease of use
Increase uptime with Trained Customer Replaceable Units
GENERAL FEATURES
A sophisticated system made simple
Get right to work with minimal training thanks to user-friendly features such as an easy-to-use control panel, plus an intuitive paper library for broad media support. Users across multiple industries can quickly get what they need from the Savin Pro 8100se with zero fuss, and print up to 95 pages per minute (ppm), plus copy, scan and finishing options.
Keep it moving
Save time and money with a system interface that requires minimal training. Operators of all levels can prep the most complex jobs in minutes and manage workflow directly from the oversized 10.4" full-color LCD control panel. Direct access to advanced editing tools and visual previews reduce output errors and keep job production on schedule.
Handle more media
Textured stocks, specialty media and heavy-weight papers? Bring it on. Accept more jobs and increase profit with the ability to print on a variety of media. Print booklet covers on 13" x 19.2" and trim for full-bleed production. Duplexed postcards run with ease at weights up to 256 g/m2 and long jobs print uninterrupted with a paper capacity of 12,650 sheets.
Help eliminate waste
Reduce time-intensive operator training and eliminate costly paper waste with the innovative Paper Library. Operators simply select a stock from the control panel and the system automatically adjusts its internal settings to deliver precise output based on the media type. With 1,000 preset or custom paper profiles and over 60 system settings for quick, automated adjustments, you'll deliver the highest quality output the first sheet out.
Take control
Choose the option that best fits your applications. The standard print controller efficiently meets the needs of high-volume workflows and supports PCL5e/6 as standard PDL. Optional genuine Adobe PostScript 3 and genuine IPDS are also available for seamless integration into almost any host environment. For print shops that require advanced management, the optional Fiery® EB-32 Controller offers end-to-end automated workflows that simplify and expedite production printing. This digital front end (DFE), based on EFI's popular Fiery Server technology, supports a wide range of capabilities including Advanced Job Re-order, Tab Inserts and more.
Work from home
Bring more jobs in-house with professional-grade in-line finishing. Options include a Dual-Source Cover Interposer, Multi-fold Unit, Ring Binder Unit, Saddle Stitch Booklet Finisher, Staple Finisher with Hole-Punching, GBC StreamPunch Ultra Unit, RPIP Interface Box and Production Booklet Finisher with limitless output.
Maximum uptime means maximum productivity
Minimize service calls and schedule preventative maintenance on your time. Trained customers can speed up support and keep workflow moving by replacing key imaging components including drums, rollers, fusing units and more. Manage unpredictable workloads and tight schedules with less stress, thanks to a system built to operate at peak performance, a maximum monthly cycle of 1,000,000 pages, advanced scanning capabilities and easy-to-use features that simplify production tasks. The system's design also includes on-the-fly toner and media replacement, an elevated status light and animated guidance.
Deliver the quality your customers demand
Outpace the competition with a fully scalable system and the power to manage high-volume workloads. Take advantage of easy-to-use controls, professional finishing and new technologies that deliver near offset image quality across an unprecedented set of substrates. Plus, count on sharp images on every project. Whether your end user is a university creating course materials or a corporation creating its annual report, the system's 1200 x 4800 dpi ensures all images are crisp.
Turn jobs around quickly and economically
Customers want high-quality documents at a low cost per page. You want to reduce operating costs, increase production volumes and drive more profits from short-run, mixed media print jobs. The economical Pro 8100se lets you increase monthly volumes, offer more services and deliver show-stopping quality that impresses system operators as much as customers. Print VDP postcards with accurate front-to-back registration, produce specialty jobs on textured papers and finish booklets and ring-bound books completely inline.
SPECIFICATIONS
Configuration
- Console
Standard Modes
- Copy/Print/Scan
Print/Copy Process
- Electrostatic transfer with indirect image transfer system
Fusing
- Oil-less belt fusing method
System Memory
- 500GB (250GB x 2)
Document Feeder -
- Standard 220-Sheet ADF with single-pass color duplex scanning
Control Panel
- Full-color 10.4" SVGA touch panel
Copy Resolution
- Up to 1200 x 4800 dpi
Paper Registration
- Sensor and Mechanical
Quantity Indicator
- 1 – 9,999
Original Size
- Up to 11" x 17" (297 x 432mm) (from platen)
Warm-Up Time
- Less than 360 sec. (from main switch)
First Copy Time
- 6.3 sec.
Output Speed
- 95 ppm
ADF Speed
- Simplex: 110 ppm
Duplex: 220 ppm B&W or Color
Paper Capacity
- Tray 1: 1,100 x 2
Trays 2 – 3: 550 x 2
Total Standard / Max. Capacity: 3,300/ 8,850 sheets
Paper Size
- Tray 1: 8.5" x 11"
Trays 2 – 3: 5.5" x 8.5" to 11" x 17"
Paper Weight
- Trays 1 – 3: 14 lb. Bond – 95 lb. Cover
(52 – 256 g/m²)
Magnification
- 7 reduction and 5 enlargement
Zoom
- 25% to 400% in 1% increments
Power Requirements
- 208-240V/20A/60Hz (dedicated)
Typical Energy Consumption (TEC)
- 12.3 kWh/week
Max Power Consumption
- 3,100W or less
Dimensions (WxDxH)
- 52" x 43.3" x 57.5" (1,320 x 1,100 x 1,460mm)
Weight
- 915 lbs. (415 kg)
COPIER FEATURES
- Duplex, Simplified Display, Auto Paper Selection, Auto Reduce/Enlarge, Auto Start, Auto Tray Switching, Auto Image Density, User Codes (1,000), Job Programs (25), Electronic Sort/Stack, Image Rotation, Rotate Sorting, Interrupt Copy, User Tools, Job Presets, Book/Series/Combine Copying, Cover/Chapter/Slip Sheet, Tabs, Sample Copy, Stamps/Numbering, Bates Numbering, Shift/Erase/Margin Adjustment, Customizable Home Screen, Import/Export of Preference Settings, Eco-Friendly Indicator, Power On/Off Timer, External USB Keyboard Support, MFP Browser for @Remote, Copy Reservation (8), A3/DLT Counter.
SECURITY FEATURES
- DataOverwriteSecurity System (DOSS), Data Encryption (Address Book, SSL Communication, S/MIME, IPsec Communication, HDD) User Authentication (Windows, LDAP, Basic, User Code, 802.1.x Wired), Unauthorized Copy/Print Control, Quota Setting, SMTP over SSL, Mandatory Security Information Print (Compulsory Security Stamp)
PRINTER SPECIFICATIONS (STANDARD)
CPU
- Intel Celeron Processor P4505 – 1.86 GHz
RAM
- 2GB
HDD
- 500GB (250GB x 2)
Max Print Resolution
- 1200 x 4800 dpi via VCSEL
Standard Interfaces
- Ethernet (1000/100/10Base-TX), USB2.0 Type A/Type B, SD slot
Optional Interfaces
- IEEE 1284/ECP, Wireless LAN (IEEE802.11a/b/ g/n), Bluetooth
Network Protocol
- TCP/IP (IPv4, IPv6), IPX/SPX (with NetWare option), AppleTalk
Network Operating Systems
- Windows XP/Vista/7/Server 2003/Server 2003R2/Server 2008/Server 2008R2; NetWare 6.5; UNIX Sun Solaris, HP-UX, SCO OpenServer, RedHat Linux, IBM AIX; MAC OS X 10.2 or later; SAP R/3; NPDS Gateway; IBM iSeries AS/400 using OS/400 Host Print Transform
Print Drivers
- Standard: PCL5c, PCL6 (XL), PDF, XPS
Optional: Adobe PS3, IPDS
Fonts
- PCL: 45 scalable + 13 international;
PDF: 136 Roman; IPDS: 108 Roman (optional)
Printer Features
- Sample/Locked/Hold/Stored Print, Store and Print, PDF Direct Print, Mail to Print, Classification Code, Bonjour Support, Windows Active Directory Support, DDNS Support, PCL Resident Font Adoption, Mobile Driver, XPS Support, WS Print, Media Direct Print, Banner Page Print, Auto Job Promotion, Poster Print, WPS (Wi-Fi Protected Setup)
SCANNER SPECIFICATIONS (STANDARD)
Scanning Resolution
- Up to 600 dpi (TWAIN: 1200 dpi)
Output Format
- Single Page: TIFF/JPEG/PDF/High
Compression PDF
Multi Page: TIFF/PDF/High Compression PDF
Scan Area
- Up to 11.7" x 17" (297 x 432mm)
Compression
- B&W – 1bit (MH/MR/MMR/JBIG2), Grayscale (JPEG); Full-Color (JPEG)
Interface Support
- Ethernet 10BASE-T/100BASE-TX/1000Base-T, USB2.0 Type A, SD card slot, Optional Wireless LAN (IEEE802.11 a/b/g/n)
Authentication
- SMTP/POP before SMTP
Scanner Features
- Scan to USB/SD, WS Scanner, Scan-to Email/ SMB/FTP/URL/NCP/PDF/A/Digitally Signed PDF/Searchable PDF, TWAIN Scanning, LDAP Support, Universal Send, Distributed Scan Management, Preview Before Transmission, PDF Encryption, Drop Out Color Send, B&W/FC Photo, B&W/FC Text, Auto Color Selection, Auto Density, Auto Size Detection, Image Rotation, Mixed Size/SADF/Batch Mode, Reduce and Enlarge, Split Scan, JBIG2 Compression Support
DOCUMENT SERVER SPECIFICATIONS (STANDARD)
Max. Stored Documents
- 3,000
Max. Pages per Document
- 1,000
Max. Stored Pages
- 9,000
Folder Management
- With password, up to 200 personal folders