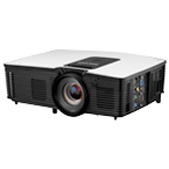 Product Overview
Make videos and images come alive
HD Resolution (1920x1080 dpi)
Brightness rating of 2500 lumens
Screen size up to 80"
Contrast ratio of 9000:1
GENERAL FEATURES
Awe your audience
The RICOH PJ HDC5420 Standard Projector is an affordable, entry-level, standalone projector that displays extremely accurate color and detail. Easily display movies and games in your home theater, show education videos at museums and science centers, or deliver presentations and videos at work.
Make it as large as life
Ensure crystal clear projection of videos on DVDs and Blue-ray disks from the front to the back of the room. The PJ HDC5420 can project displays up to 300 inches diagonally with true high definition (up to 1920 x 1080 dpi) and HDMI connectivity.
Convey with color
Make your information come alive with extraordinary precision. Maximize the color in videos and images with an enhanced six-segment RGBRGB color wheel that projects deeper, richer colors and lifelike natural skin tones. Project flawlessly on different surface colors and textures, in ambient lighting conditions and with various video formats.
Illuminate the details
Project clear color and detail—even in brighter rooms. With 2,500-lumen brightness, a high contrast ratio of 9,000:1 and a widescreen 16.9 aspect ratio, you can easily view video and smaller print anywhere, anytime. Use less energy to get your point across with up to 6,000 hours of lamp life in Eco Mode.
Grab and go
Need to change your audience or your venue? Simply grab this portable, non-networked projector and head to another room — and start projecting within five seconds of turning it on. Reduce IT involvement and replace dedicated mounted projectors and expensive projection screens with this portable technology.
Create and connect for less
Get the true home theater experience at an affordable cost. Project full-sized 2D and 3D high-definition images on larger screens in your media or family rooms. You can even seamlessly stream movies and games from your tablets and mobile phones through an embedded Mobile High-Definition Link (MHL).
GENERAL SPECIFICATIONS
SYSTEM SPECIFICATIONS
Part #
- 432085
Replacement Lamp Part Number¹
- 512927
System
- Single Chip DLP®
Resolution
- HD – 1920 x 1080 dpi
White Light Output (brightness)
- 2,500 lm
Contrast Ratio
- 1800:1
High contrast mode: 9,000:1
Screen Size
- 30" – 300"
Projection Ratio
- 1.068 – 1.451:1
Projection Modes
- Standard, Rear, Ceiling, Rear Ceiling
Projection Distance
- 27.9" – 379.5" (0.71 – 9.64 meters)
Lamp Type
- High-pressure Mercury (260W)
Lamp Life
- Standard Mode: 3,000 hours; Eco Mode: 6,000 hours
Built-in Speaker
- 10W Mono
Dimensions (W x D x H)
- 12.4" x 8.8" x 4.1" (314 x 224 x 92 mm)
Weight
- 6.6 lbs. (3.0 kg)
Projector Functions
- Adjuster, AV Mute, Freeze, Re-size (Magnify), Manual Keystone (Horizontal/Vertical), Wall Color Mode, Security Bar, Kensington Lock, Eco Mode, 3D Projection Ready (for use with 3D Glasses)
1Lamps are consumable products and therefore are not covered by the projector's warranty.
GENERAL SPECIFICATIONS
Storage & Transportation Environment
- Temperature 5 ~ 40˚ C; Humidity: 20 ~ 80%, non-condensing
Fan Noise
- Standard Mode: 39 dB or less; Eco Mode: 33 dB or less
Power Supply
- 100/240V; 50 – 60 Hz
LIQUID CRYSTAL PANEL
Size
- 0.65"
Aspect Ratio
- 16:9
PROJECTION LENS
Zoom Ratio
- 1.36
Zoom / Focus
- Manual/Manual
INTERFACE
Image Input
- Mini D-sub 15 x 1
Image Output
- N/A
S - Video
- Mini DIN 4 x 1
Audio Input1
- Mini Jack x 1
Audio Input2
- N/A
Audio Output
- Mini Jack x 1
HDMI
- HDMI x 2
PC Control
- D-sub 9 x 1 (RS-232C)
USB
- N/A
Wired LAN
- N/A
Wireless LAN
- N/A
SUPPORTED OS
Projector Management Utility
- N/A
POWER CONSUMPTION
While Operating
- Standard Mode: 352W; Eco Mode: 280W
Standby Network OFF
- Less than 0.5W