| | |
| --- | --- |
| Personal Paperless Document Manager NX | (SAVIN) |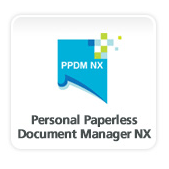 Product Overview
Information literally surrounds you – in folders and filing cabinets, spilling out of desk drawers or buried in your Inbox. It could be somewhere in a spreadsheet, on your tablet or in the Cloud. Information is changing and so is the way you work with it. You want the best tools in the industry to bring together the information you need, when and where you need it. Make information work for you – with Personal Paperless Document Manager NX. This award-winning solution helps you get more done in less time – with less effort. You can leverage your existing Ricoh MFP by adding the powerful OCR capabilities of Personal Paperless Document Manager NX. Now you can easily take the information from paper or digital files right to the Cloud, where you can store or share it with others.
ABOUT PERSONAL PAPERLESS DOCUMENT MANAGER NX
Easily create PDF documents from all types of paper or digital formats with industry leading tools.
Key components:

PaperPort Professional 14.5 – Access files easily, anywhere
OmniPage Ultimate – Convert paper documents and PDFs on demandli
PDF Converter Enterprise 8.2 – Edit, share and collaborate on PDFs
DesktopDelivery PSP 11.5 – Enable communication between the desktop and server
ShareScan Scan to PPDM Server – Scan to PPDM NX workflows created at your PC

Combine, convert, manage and share documents…from desktop to cloud
Utilize faster processing, robust document conversion, cloud storage and expansion options featured in the new version of PPDM NX
Use PPDM NX as your personal document management system and eliminate the need for additional software, such as Adobe Acrobat, to create and edit digital documents
MAJOR APPLICATIONS
Enable efficient workgroup collaboration, leveraging both cloud mobility and onpremise systems
Boost productivity for workers who process paper documents, create PDFs, edit documents or work with direct distribution
Lighten the load for paperheavy industries such as legal, financial, medical, government, education, manufacturing and technical markets
BENEFITS
Say goodbye to wasted time – access data faster with paperless processes
Reduce the time and cost of recreating images , documents or information files that are locked in noneditable formats – so you can focus on what you do best
Eliminate the expense of Adobe Acrobat Create with tools to create PDF documents from virtually any file
Keep projects moving forward with accurate PDF conversion, including complex layouts with columns, tables and graphics
USING PERSONAL PAPERLESS DOCUMENT MANAGER NX
At the MFP

Personalize the MFP interface with your workflows and preferences (created at your PC)
Log in to any Ricoh MFP, select your folder destinations and scanning options, then press Start
Choose whether to route documents to your computer, a network location or a document management solution
Quickly and easily create standard images or searchable / editable PDFs direct from scanner with oneclick Scan to PDF

On the Desktop

Manage, convert, edit, share and create PDFs from virtually any file without Adobe Acrobat
Stay efficient with drag & drop tools that let you quickly remove or replace pages, combine files or add Microsoft Word and Excel files to existing PDFs
Save time with features such as automatic text redaction and PDF/A compliance checker
Convert complex layouts and retain your annotations and comments accurately with an intelligent OCR
Convert noneditable forms into fillable PDF forms – so you can capture information digitally instead of manually on paper
Save documents directly to DMS (Document Management Systems)
Search the contents of files without opening them and batch process multiple files to save time
Choose from a wide range of output formats including PDF, HTML, Corel® WordPerfect®, Microsoft® Word, Excel®, PowerPoint® and more
Save the conversion preferences that work best for you, so they can happen automatically for future documents
Convert files to MP3 audio

On the go, in the Cloud

Send content directly to over thirty cloud storage services, including Box TM, Windows Live TM, OneDrive®, Google Drive TM, Office 365 TM, Evernote® and Dropbox TM
Manage folders, files and documents and access them via a web browser from your mobile device
Use your iPhone (or a digital camera) to capture images and convert them into editable documents
Login and connect to multiple Cloud services at once
IMPLEMENTING THIS SOLUTION
Get up and running quickly with a simplified software installation process
Choose which computers to equip – solution is sold by desktop computer (MFP client and ShareScan Scan to PPDM server software are included at no additional cost)
Integrates directly into enterprise content management, document management and accounting systems, as well as cloud collaboration services
Features 256bit encryption and password protection or passwordless protection, (DRM)
Converts documents that are compatible with eBook applications on the Apple iPad, Android Tablets, Kindle, Microsoft Surface, the Nook Simple Touch and Tablet devices, several Sony Reader models, as well as the Kobo eReader, Touch and Arc models
Supports 3.5" screens and external keyboard
COMPLEMENTARY PRODUCTS
SPECIFICATIONS
No information currently available.