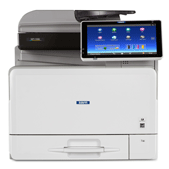 Product Overview
Bring colorful multifunction performance to the desktop
Prints up to 31 ppm, copy, scan, fax
1200x1200 dpi max print resolution
Paper capacity up to 1,350 pages
Store up to 3,000 documents on the MFP's 3GB hard drive
GENERAL FEATURES
Accommodate more media
You may be limited by space, but you're not limited in what you can accomplish. With the compact Savin MP C306 multifunction printer, you can combine power and versatility with an intuitive touchscreen control panel to print, copy, scan and fax documents up to 8.5" x 14" with ease - and on a variety of media from multiple paper sources.
Put productivity at your fingertips
With the compact MP C306 multifunction printer, you can capture, transform and share information with the familiar drag-and-drop, pinch-and-click, and swipe scrolling you use every day on your Smartphone or tablet.
Work on the move
Get information in front of others in seconds by using your personal mobile device to print via the MP C306. Send print jobs to the MFP and pick them up at your convenience with a release code. Carry your documents on your handheld device instead of a pile of cumbersome paperwork. You can also scan to and print from SD or USB media.
Save your energy
The MP C306 features a class-leading Typical Electricity Consumption (TEC) rating as determined by ENERGY STAR® program testing requirements. Take advantage of fast recovery from Sleep Mode and a fast first-print time to curb energy without compromising productivity. You can even program the device to power on or off at specified times to conserve energy with the Auto Off Timer feature. Plus, the system is ENERGY STAR certified and meets EPEAT® Gold criteria.
Improve security and lower costs
With user authentication, you can help steer your information to its rightful audience with speed and precision. Restrict users from specific tasks, such as color printing, to help reduce costs. Plus, you can set output quotas to minimize unnecessary printing. And with the standard DOSS feature, any data left on the hard drive is overwritten and rendered unreadable at the end of each job.
Finish strong
Looking to conserve resources and eliminate the hassle of removing staples when shredding or recycling documents? With the optional Hybrid Stapleless + Stapler Finisher, you can complete documents with or without staples automatically, depending on the size of the job. Choose from a wide range of other finishers, including an internal stapleless finisher, to fit your unique paper handling, stack, stapling and booklet-making requirements.
Keep moving
Work only stops when you do. Print from your smartphone or tablet without utilities, drivers or software. Download the Savin Smart Device Connector app and use your mobile device to grab information from cloud storage, access your own personal address book and share information with the right people at the right time. Need to print from more than one network? Use the dual network port to connect to multiple networks simultaneously.
Be accountable
With user authentication, you can track every user and action. Have users log in via passcodes or by swiping proximity cards via an optional Near Field Communication (NFC) card reader. Set centralized print quotas. Restrict access to color printing. Make duplex printing the default. And more.
GENERAL SPECIFICATIONS