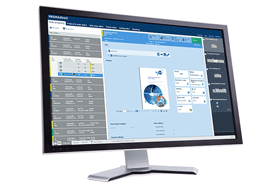 More Jobs. More Control. Direct Results.
The PRISMAdirect workflow management solution helps streamline print production workflows from order intake through production management to reporting and accounting.
PRISMAdirect can help simplify order acquisition from a multitude of channels including email (MS Outlook), FTP servers, supported web shops or uniFLOW, Canon's industry-leading print and scan management solution for enterprises.
The optional PRISMAdirect Webshop allows the creation of targeted virtual storefronts for different audiences. PRISMAdirect's core is the order and production management dashboard, designed to manage orders containing print and/or non-print items. Operators can manage production or kitting of jobs assigned to them via their personal job view dashboard.
And extensive reporting and accounting capabilities of PRISMAdirect can help you gain more insight into your operation.