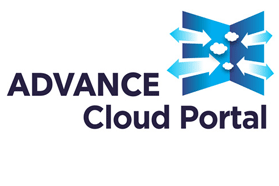 ADVANCE Cloud Portal enables users to access their Google Drive™ account directly from an imageRUNNER ADVANCE system*. This new MEAP Web solution provides the ability to easily scan and store documents into a user's Google Drive™ account, as well as print documents already stored in the cloud. With ADVANCE Cloud Portal, your cloud content is just a few clicks away when using your imageRUNNER ADVANCE system, helping you maximize office productivity.
Not only does ADVANCE Cloud Portal allow you to easily access your cloud content, but the application itself also resides in the cloud. This provides additional benefits including the ability to easily deploy the application to an entire fleet of devices at once, instead of installing on each device individually. Plus, whenever there is a new version of the application, all of your devices will automatically update thanks to Canon's MEAP Web technology.
The imageRUNNER ADVANCE system that will be running ADVANCE Cloud Portal requires the MEAP Web Connection Kit and the PDF Direct Print Feature.