| | |
| --- | --- |
| RICOH® TotalFlow® Path | (SAVIN) |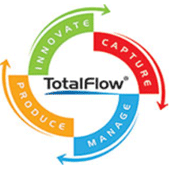 Product Overview
Streamline digital print workflows by connecting software programs and business applications like your web-to-print system and MIS. TotalFlow® Path software from Ricoh® enables programs and applications to intelligently communicate with each other, and this improves production print efficiencies by automating repetitive tasks.
GENERAL FEATURES
There's an immense amount of information flowing through your organization, especially when you're facing multiple print deadlines. Use it to your advantage and churn through more jobs quickly. With RICOH TotalFlow Path software, you can link your digital print and business processes to capture and manage information faster and with incredible accuracy.
LET YOUR BUSINESS SYSTEMS DO THE TALKING
How many times have you had to re-enter production print numbers into your accounting system? Wouldn't it be easier to simply transfer the information from one system to the next? With TotalFlow Path, you can connect business silos such as prepress, print management and third-party applications (such as web-to-print or MIS systems) to automate tedious tasks and reduce mistakes.
ACCOMPLISH MORE WHILE WORKING LESS
Create your own digital workforce. Connect your print technologies, systems and personnel to merge information and processes and remove time-consuming, expensive, error-prone manual steps. Ditch the paper checklists, along with the end-of-the-day scrambles to meet deadlines. Simply track everything via a web-based GUI and make changes to digital workflows on the fly.
CHANGE WORKFLOWS TO MAINTAIN CONSISTENCY
You've been told that you can learn from your mistakes — TotalFlow Path helps you learn from your successes. Create dynamic workflows so your team only has to perform essential tasks. Everything else is handled automatically, whether recreated from past successful jobs or skipped entirely.
All of the information is taken directly from the job ticket, so each job is aligned automatically to the most suitable, cost-effective device with appropriate business rules to maximize speed, convenience and cost.
SEAMLESS INTEGRATION IS THE BEST PATH
You're in charge of managing many moving parts to complete every print project. Use TotalFlow Path to keep all of them aligned. Connect it to devices in Ricoh's cutsheet printer portfolio that have EFI Fiery-JDF enabled controllers and Ricoh's GW and GW+ controllers to simplify production tasks.
Use it with RICOH TotalFlow Prep to prepare print files accurately and quickly. Pair it with RICOH TotalFlow Print & Production Manager to maximize job output management capabilities.
EXPEDITE PRODUCTION PRINTING, AUTOMATICALLY
Get the information you need to speed cutsheet print production. Access job tickets, order submissions, email approvals, security options and more in moments via the seamless integration between digital print applications and your production print workflows.
PRINT BY YOUR OWN RULES
Set up customer- or application-specific workflows to automate many common tasks for similar projects. For example, you can include impositioning and cutting for all business card workflows or add security controls or proofs for your most important jobs.
STAY CONNECTED WITH MORE APPLICATIONS
Purchase optional connectors for:

PTI MarcomCentral
PTI FusionPro Producer
Objectif Lune PlanetPress
RSA WebCRD
Avanti Slingshot
EFI Fiery, Enfocus
Pitstop Server
Ultimate Impostrip OnDemand Automation
The latest edition of EFI Digital StoreFront
SEE THE WIZARD TO GET STARTED
Who needs IT support? Simply download the software and the Workflow Wizard guides you from there. Customize your production processes, including workflow branching, user security, email approvals and more within moments.
ORGANIZE YOUR MEDIA CATALOG
Capture media catalog information from JDF-enabled print controllers or by using RICOH TotalFlow Prep and RICOH TotalFlow Print & Production Manager, and simplify many of the most complex print tasks with ease.
USE HOT FOLDERS TO KEEP JOBS MOVING
Set up local folders on the server or via shared folders elsewhere. Create a ticket and submit the job directly into TotalFlow Path as a PDF or JDF file, so you can access it quickly in almost any external application.
ADD ACCOUNTABILITY TO YOUR PRINT PROCESS
Choose how you want jobs to be approved, whether that's via a manual process, through the user interface, through email or other means. Manage all security controls. Restrict access to specific functions to ensure that the right people are making the right decisions for your print shop.
See all the built-in and optional features in the TotalFlow Path brochure.
GENERAL SPECIFICATIONS
SYSTEM REQUIREMENTS
Page Description Language (PDL)
- PDF, PostScript (Printers may require the Printer/Scanner and PostScript option.) Virtual machines not supported.
Computer
- CPU: Dual core processor 2.4 GHz or better
Main memory: 3 GB RAM for x86; 4 GB RAM for x64.
Hard disk: At least 10 GB of available disk space and up to 250 GB depending on usage. The amount of space required varies greatly, depending on the size and number of jobs and on the specific operations that are processed within TotalFlow Path.
Displays
- 1,024 × 768 pixels or greater
Operating Systems
- One of these:

Windows 7 Professional, Enterprise or Ultimate (32-bit/64-bit)
Windows Server 2008 R2 Standard or Enterprise (64-bit)
Windows Server 2012 and 2012 R2 Standard or Datacenter (64-bit)
Windows 8 and 8.1 Professional or Enterprise (32-bit/64-bit)

TCP/IP ports
- HTTP web port: 28645 (or the port selected during installation)
- Extensions port: 28646 (or the port selected during installation)
- HTML User's Guide port: 28647 (or the port selected during installation) SSL communication port: 443 (if required)
If your firewall is configured to block the default ports or the ports that you set up during the installation, you must open them. Refer to the documentation for the firewall that is enabled on your computer to make sure that the TotalFlow Path ports are open.
Prerequisite software
- .NET Framework 4.5, included with the installer
- Java Runtime 7.0, required for the Information Center and for activating the license
- SQLite, included with the installer
Web Browser
- One of these:

Internet Explorer 9 or later. NOTE: that Internet Explorer 9 does not run on Windows XP. (http://windows.microsoft.com/en- US/internet-explorer/downloads/ie-9/worldwide-languages).
Mozilla Firefox 4 or later (http://www.mozilla.org/en- US/firefox/all.html)
Google Chrome 11 or later
(https://www.google.com/intl/en/chrome/browser/)
Safari 5 or later
(http://support.apple.com/kb/DL1531)

A browser is required only if you want to access the user interface from the computer on which you install TotalFlow Path.
JavaScript must be enabled for the web browser used.
TotalFlow Path is optimized for Mozilla Firefox and Google Chrome.