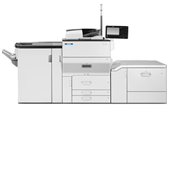 Product Overview
Workflows: Meet your match. High-speed, high-impact production and performance
Print up to 80 pages per minute
Attract customers with superb print quality
Advanced finishing and media support
Reduce downtime with Trained Customer Replaceable Units
GENERAL FEATURES
Right-sized for your business
Get the professional results you need with unmatched quality — on time and on budget. The Savin Pro C5110s Color Production Printer helps you deliver on a wide range of customer demands with 80 pages per minute (ppm) printing, plus copying, scanning and finishing all in a single space — all you need is less than four inches of clearance from the wall.
Enjoy luxury performance with best-in-class affordability
Price out your competition when you turn around deliverables ranging from the basics to complex mixed-media jobs — all at a low cost per page. Combine the system with a VDP software application and increase your customer base with customized communications that command top dollar and fit your growing business needs.
Finishing that's full speed ahead
Keep productivity at maximum speed, seamlessly moving from one project to the next with easy-to-use controls, high image quality and automated in-line finishing. Turn previously outsourced jobs into profits with robust options to meet pressing demands and quick turnaround times. Features include stapling, hole punching, multi-folding, saddle stitching, cover insertion and professional-grade booklet making. The Pro C5100s also supports paper sizes up to 13" x 19.2" with enhanced media handling capabilities for textured papers, specialty stocks and synthetic materials, plus projects such as high-quality letterhead, direct mail postcards, envelopes, labels and more.
Enjoy competitive advantages
Gain total command over job processing and advanced color matching capabilities with the choice of two unique print controllers to match your specific workflow needs: the Fiery E-22B color controller and the server-based Fiery C-42B. Our patented PxP oil-less toner utilizes smaller, uniformly sized particles that adhere to thick stocks, coated papers and textured media for the sharpest image output with solid-color fills. Plus, VCSEL Technology delivers best-in-class 1200 x 4800 dpi resolution for razor-sharp text, smooth graphics and incredibly accurate image reproduction. And, the precise registration gives you front-to-back registration on double-sided documents with every print.
Outstanding ease of use
Watch productivity soar and user errors decrease as you quickly navigate from job to job on the full-color, ultra crisp, WVGA touch-panel display. You can even run the entire project from the control panel with minimal job programming training.
Get a library of innovations at your fingertips
Streamline printing and produce more jobs on a wider range of substrates with the innovative Paper Library. You can select up to 1,000 preset paper profiles and customize up to 99 system settings for quick, automated adjustments to a variety of paper types.
Say goodbye to downtime
Meet customer deadlines with Trained Customer Replaceable Units (TCRUs) that keep your business running at peak performance. Minimize the need for service calls and scheduled maintenance with independently replaceable key imaging components including the Charger Roller, ADF Roller and Fusing Unit. You can even replace toner cartridges without having to stop the unit.
Keep moving forward
The intelligent design includes a maximum paper capacity of 8,250 sheets, on-the-fly toner and media replacement, plus an elevated status light and animated guidance. Active tray indicators located on each paper tray clearly display the tray currently in use, so you can reload and re-link media sources while the system is printing — without halting production. The elevated status light is visible from almost any angle, so you can keep an eye on system status in real-time. And should an error occur, the control panel can guide you through problem-solving steps; you'll spend less time waiting for service and more time growing your business.
SYSTEM SPECIFICATIONS
Process
- 4 drum dry electrostatic transfer system with internal transfer belt
Fusing
- Oil-less belt fusing method
System Memory
- 320GB (160GB x 2)
Document Feeder
- 100-Sheet ADF with single-pass color duplex scanning at up to 220 ipm
Control Panel
- Full-color 9" WVGA touch panel
Copy Resolution
- 600 dpi
Print Resolution
- 1200 x 4800 dpi
Scan Resolution
- 600 dpi
Scan Speed
- (BW/FC): Simplex: 120 ipm; Duplex: 220 ipm
Maximum Print Area
- Up to 12.7" x 18.9" (323 x 480mm) (from platen)
Warm-Up Time
- Less than 300 sec.
Output Speed
- 80 ppm (FC/BW)
Paper Capacity
- Tray 1: 1,250 x 2; Trays 2 – 3: 550 x 2; Bypass Tray: 250 sheets; Supports duplex; Total Standard/Maximum: 3,850/8,250 sheets
Paper Size
- Tray 1 – 3: 16 lb. Bond – 140 lb. Index (52 – 256 g/m²)
Bypass Tray: 16 lb. Bond – 110 lb. Cover (52 – 300 g/m²)
Duplex: 16 lb. Bond – 140 lb. Index (52 – 256 g/m²)
Paper Size
- Tray 1 – 3: 16 lb. Bond – 140 lb. Index (52 – 256 g/m²)
Bypass Tray: 16 lb. Bond – 110 lb. Cover (52 – 300 g/m²)
Duplex: 16 lb. Bond – 140 lb. Index (52 – 256 g/m²)
Maximum Monthly Volume
- 150K
Duty Cycle
- 300K
Power Requirements
- 208-240V/12A/60Hz (dedicated)
Maximum Power Consumption
- 2,400W or less
Dimensions (W x D x H)
- 32.9" x 34.6" x 48.4" (835 x 880 x 1,230mm) (including ADF)
Weight
- Less than 574 lbs. (261 kg)
COPIER FEATURES
- Simplified Display, Auto Paper Selection, Auto Start, Auto Tray Switching, Auto Image Density, Auto Color Calibration, Interrupt Copy, User Codes (1,000), Job Programs (25), Color Erase/Convert/Overlay, Electronic Sort/Stack, Image Rotation, Rotate Sorting, Bates Numbering, Multiple Security Features (DOSS, Data Encryption (AES256bit/SHA2), Network User Authentication, Unauthorized Copy Control, Mandatory Security Information Print (Compulsory Security Stamp), SMTP over SSL, Common Criteria Certification (IEEE2600.1)